One of the best things about vintage shopping is sweater weather season. Nothing beats the excitement of finding that one-of-a-kind sweater that carries its own unique history for extreme vintage shoppers. So if you are crazy about vintage sweater options, we'll be sharing with you some of the most popular pieces you can find online.
These days everyone seems to be going vintage, so whether you buy new or used pieces, a vintage look is the ultimate goal. One of the great things about shopping vintage and, in this case, vintage sweaters is that in addition to becoming more sustainable in your shopping habits, you know that it is highly unlikely you'll see someone else wearing that same piece.
Buying vintage and pre-owned knitwear made from desirable fabrics is an investment for your closet, disguised as a thrifty find. Without further ado, embrace sweater wheater with some of these fantastic vintage sweater alternatives.
Vintage Sweaters FAQ's
What's the difference between a thrift-store find and an authentic vintage?
According to experts and collectors, something can't indeed be classified as "vintage" unless it's at least 20 years old. The majority of what is in thrift stores isn't vintage but rather newer used pieces.
Is vintage more expensive?
Thrifting is a great way to save money and shop sustainably, but picking out genuine vintage at these stores usually requires some know-how to identify correctly. Hence, prices tend to be a bit higher at vintage boutiques than your favorite local Salvation Army.
Where can you buy secondhand Vintage Sweaters?
A thrift store is an acceptable option when it comes to secondhand shopping for a sweater, but regardless of which route you decide to take, it's good to know what exactly you're getting, so you know how to value it.
What has considered a good vintage sweater find?
Experts say an incredible vintage or secondhand sweater find is pure cotton knit with a great texture. The quarter-zip sweater is a go-to pick with brass buttons or a ribbed incorporated since they're accessible to style and suitable for layering.
What to look for when choosing a vintage sweater?
Check the care tag. The tag will tell you everything you need to know about your pre-loved item, from the fabric composition and how it should be washed to where it was made and, sometimes, even its timeframe origin.
Desirable fabrics are key. You'll want to make a note of what the garment is made from, as this is often an indicator of how long it's going to last. Desirable materials include wool, cotton, and cashmere, etc.
Always follow the care instructions. It's essential to identify how a vintage sweater should be cared for before you take it home to ensure you're up for the task and avoid any accidental shrinkage or unraveling.
Stains may be dealbreakers if you're trying to convince yourself that you'll be able to get a stain out of a vintage sweater before you buy it, don't.
Fit is important but is not everything. The sizing on most vintage clothing items varies. But when it comes to buying a secondhand sweater, one of the best parts is a fairly generous fit.
Vintage Sweaters
This adorable cow sweater is super soft and warm, includes Harajuku, ulzzang, and collage style.
You can pair this cute pullover sweater with a cozy coat and a variety of jeans, skirts, leggings, boots for a fashionable look. A perfect gift for your friends, your roommate, and your family.
This casual kawaii knitted sweater is the perfect choice for your daily wear, outdoor activities, shopping, club, party, dates, and any other occasions in Spring, Fall, and Winter.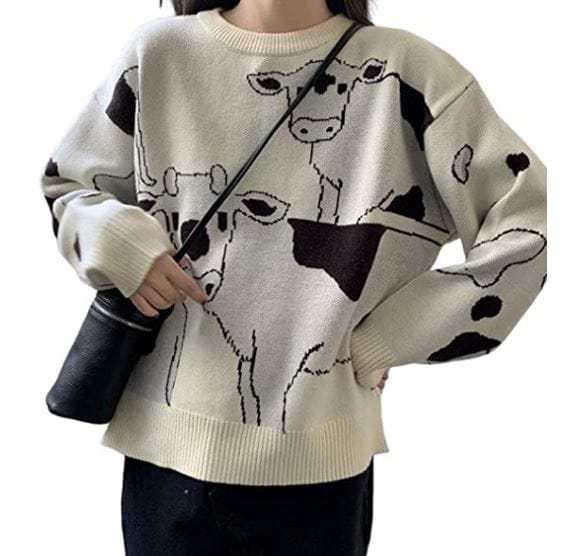 Features:
100% Acrylic
Crew Neck
Drop Shoulder
Long Sleeve
This stylish and comfortable vintage sweater is simple yet fashionable. They are made of 90% cotton, 10% polyester fiber, comfy and soft fabric, not easy to deform.
It can be matched with sports pants, jeans, casual pants, skirts, and shorts. The versatile style makes this top more attractive and looks very fashionable and avant-garde.
Very suitable for school, dating, vacation, beach, shopping, daily life, etc. It is also an ideal gift choice for couples and girlfriends. This kind of sweater would look lovely with a pair of vintage Havanas.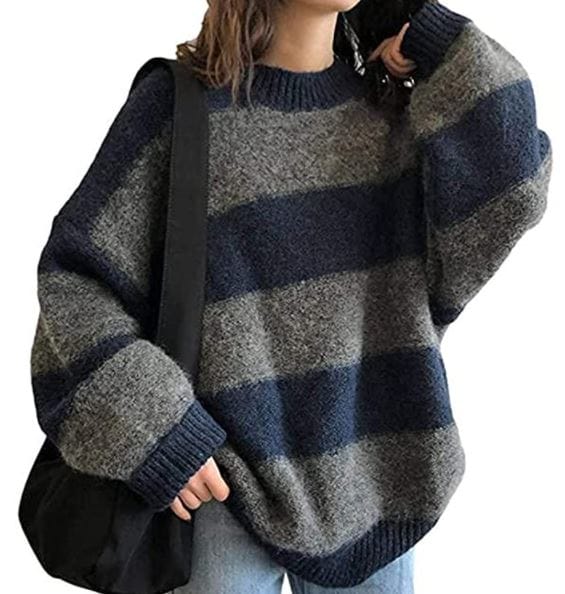 Features:
90% cotton, 10% polyester fiber
Pull-On closure
Machine Wash
This is a Polo collar pullover sweater, lapel collar vintage top, and plaid pattern make the shirt more elegant and suitable for all ages.
Fashion plaid sweater suitable for spring, summer night, fall, winter. Great for casual wear, indoor, outdoor, leisure, shopping, daily wear, streetwear, birthday party, evening dinner, photography props.
This half-button pullover sweater is great with high-waisted jeans, skinny jeans, print dresses, skirts, or leggings. Delicate and meanwhile casual.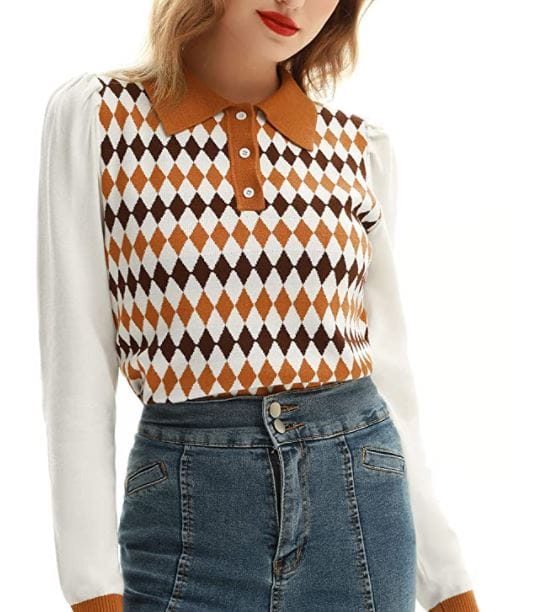 Features:
65% Viscose, 35% Acrylic
Dry Clean Only
Ribbed sleeve cuffs
Elastic
This Y2k oversized sweater is made of high-quality polyester. Y2k knit sweater top is soft, skin-friendly, and comfortable to wear.
Women y2k knitted sweater features pullover, vintage grunge style. Long sleeve, crewneck/v neck, argyle plaid/heart. It offers a loose fit, 90s oversized sweater design.
This is perfect for casual daily wear, streetwear, office, home, picnic, vacation, dating, holiday, outdoor, work, school, club, loungewear, night out, shopping, etc.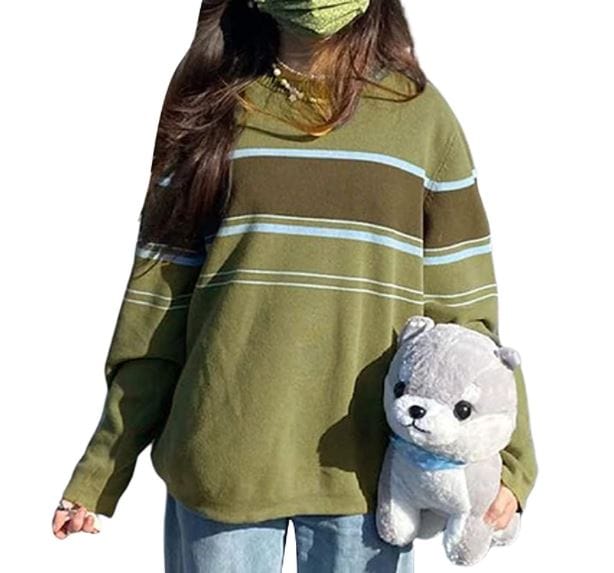 Features:
Long sleeve
Crewneck/v neck
Argyle plaid/heart wave
This is a casual plus-size graphic sweatshirt for women. Featuring long sleeve, drop shoulder, color block, casual plus size graphic sweatshirt.
It is machine washable and suitable for hanging out, parties, school, home, weekend casual, and daily wear.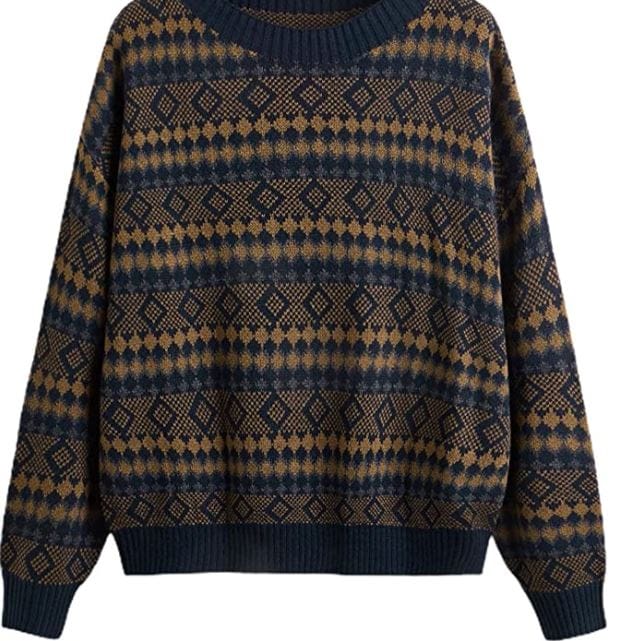 Features:
Stretchy and soft fabric
Machine washable
This oversized sweater vest can match the blouse inside, perfect for daily life, travel, holiday, office, shopping, school, workouts.
Houndstooth sleeveless knitted sweater is made of high-quality fabric, soft and skin-friendly, stretchy, warmth while also making you look stylish.
It can be a Sweater Pullover paired with jeans, skirts, and an Outdoor Sweater Waistcoat paired with a crop top or t-shirt.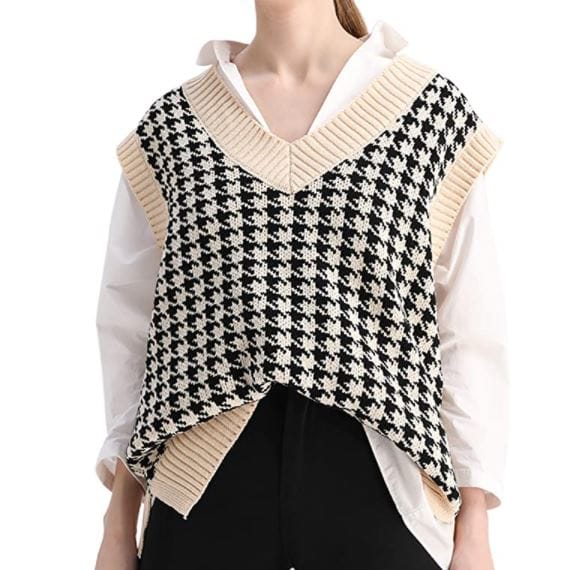 Features:
Versatile
49% viscose 23% nylon
Sleeveless
This casual knitted pullover is made of soft stretch fabrics, loose-fitting, hedging casual women's knitted sweater, light, not thick or thin, loose/casual/soft, and comfortable.
This comfortable pullover knitted sweater is matched with basic long sleeves. The high stretch design makes this sweater easy to put on and take off, effectively preventing cold air from entering your body.
This warm, casual pullover will be your most loyal companion, especially in cold winter or night, becoming the most versatile everyday sweater to carry with you.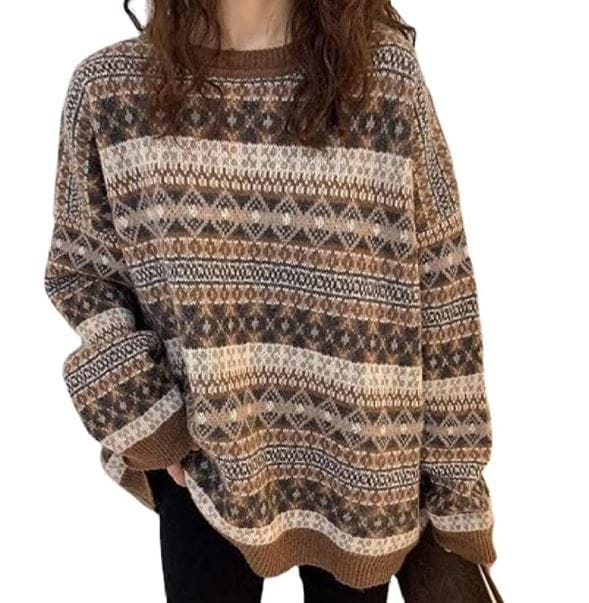 Features:
Comfortable
High-quality fabric
Loose-fitting