If you are a fan of everything antique and love the vintage touch in your decor, then a vintage couch is much needed. Vintage furniture is highly versatile and can also add beauty and charm to your rooms like never before. So we'll be sharing with you some of the best vintage couch options available in the market today.
There's been an interior design retro revival in recent times, and the trend is showing no signs of waning. So it's no surprise to see industry experts betting on vintage-inspired furniture looks. If you also feel like bringing this ultra-cool trend into your home space, then you may need to do a little research before making any investments.
As you may imagine, a vintage couch can be found in different shapes and sizes. So with so many options, how do you know what to choose. Scroll down to find some of the most popular available options and see the magic a vintage couch can create.
Vintage Couch FAQ's
How can you tell if a couch is vintage?
Start by examining the frame or structure of the sofa from the underside as much as possible. A vintage sofa or antique couch should have a well-constructed wooden frame, typically with dovetailed joints. Modern joints, including glue or Phillips head screws, identify a sofa as a reproduction.
What does vintage mean in furniture?
It is a term that is loosely used to describe a previously owned piece of furniture; however, for a piece to be considered "VINTAGE," it must be between 30 to 100 years old. Furniture that is at least 100 years old is classified as "ANTIQUE."
Are vintage couches comfortable?
Still, with a bit of tweaking (maybe even re-stuffing), antique and vintage sofas can be quite comfortable. Cozy or not, with the right upholstery, antique sofas can evoke a sense of drama, formality, or even whimsy in any room.
Is a vintage couch worth it?
This is a matter of personal choice; if you are into vintage furniture, a vintage couch will make your day. Look for iconic mid-century modern furnishings. Something is sitting on chic metal legs for a retro-inspired that comes draped in the most delicate velvet upholstery. Good features also include button-tufted detailing and elegant beech wood frames.
How to choose a vintage leather couch?
For a timeless look and to save space, avoid arms that curve out too much. A vintage leather sofa is a statement piece, so don't compromise on the shade you want. Pick something that can reflect light well and can lift a gloomy room.
Leather colors often change in popularity, and although chocolate-brown, red and black can seem too heavy at first, once they are worn and knocked back, they take on a new lease of life, so they shouldn't be completely ruled out.
Is a vintage couch better if it is older?
An older piece that has had some life but is still intact and where the leather hasn't cracked will be a good option for families with children and pets as it can be wiped clean easily. Spills and stains won't look good on a new sofa but will blend into the patina of an older one and add extra character.
How to care for a vintage couch?
As with all furniture made from solid wood, it is essential to keep it healthy. Try polishing the wooden frame with nourishing substances such as beeswax or tung oil. Tung oil hardens on exposure to air and will reinforce wooden surfaces, while a gentle cost of beeswax will maintain a good level of moisture.
The same question goes for looking after old fabric and leather. A weathered patina looks wonderful and lends immediate rustic charm to any antique sofa. To keep old leather supple, rub light beeswax into it from time to time. The perfect accent for any vintage couch could be a vintage chandelier.
Vintage Couch Options
The timeless Chesterfield sofa finds New life in this update on a cherished classic, featuring traditional rolled arms, intricately Tufted and pleated upholstery, elegantly turned legs, and eye-catching nailhead accents.
This deeply-seated selection will instantly become the centerpiece of your living room or another indoor sitting area.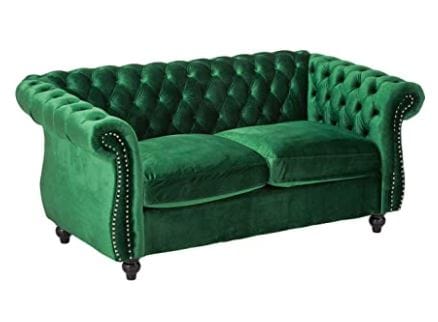 Features:
100% polyester
Handcrafted details
Emerald/Dark Brown
This striking sofa mixes mid-Century inspiration with touches of modern glam. Tufted tight back cushioning stays tidy over time while metal legs lend an airy, modern feel, and leather upholstery adds classic comfort.
Solid-wood frame, foam padding, brass-finished legs, and genuine leather upholstery.
The elegant contemporary-style design also pairs well with vintage, glam, or mid-century-modern living room decor.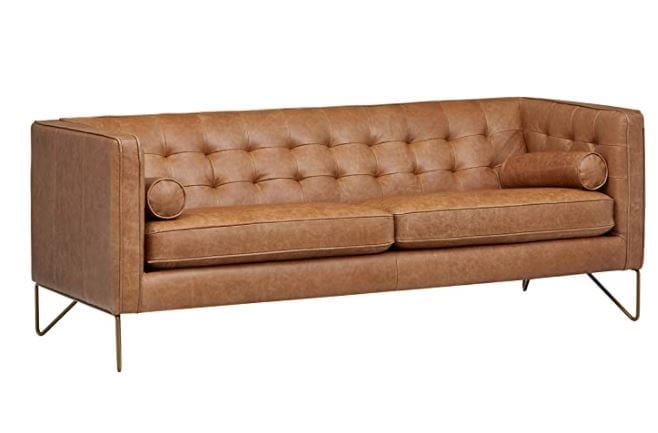 Features:
Cognac Leather Color
Wood
Mid-Century Modern
Designed with the traditional Chesterfield style in mind, this piece hits all the essential elements, with deep button tufting, nailhead accents, scrolled arms, and turned legs.
The button-tufted stitching in the chaise offers an extra touch of sophistication that enhances its contemporary design. The diamond stitch pattern adds a bit of texture without sacrificing any comfort.
The velvet is 100% polyester, featuring a featherlike softness and unique sheen. With built-in resistance to wrinkles and outstanding durability, this velvet is hands down the best option amongst velvets.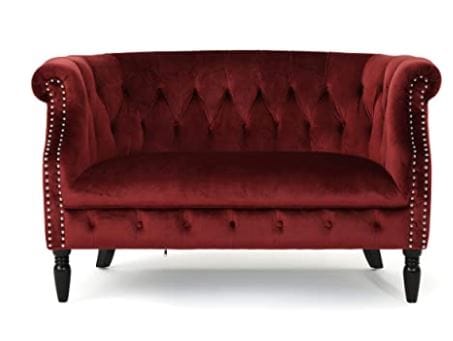 Features:
Chesterfield style
Scrolled arms
100% polyester
The Picardy sofa collection brings the influence of European antiques to life with traditional carvings, detailed looping, and a gorgeous vintage finish.
The hand-applied finish enhances the beauty of the intricate woodwork and moldings. The sofa features cabriole legs and is covered with luxury upholstery.
This elegant collection will surely bring true splendor into your home.
Features:
Tight Back and Lose Seat
Diamond Tufted
Nail-head Trim
Pocket Coil Seat
This settee bench brings a modern flair to a classic silhouette. This piece has a Victorian-inspired look, yet it can easily integrate into a contemporary design.
The button-tufted back and high-density foam seat cushion provides optimal comfort, making this loveseat a cozy spot for lounging, reading, or napping.
It has carved wooden legs and rolled, overstuffed arms that create a decorative accent with a touch of French style.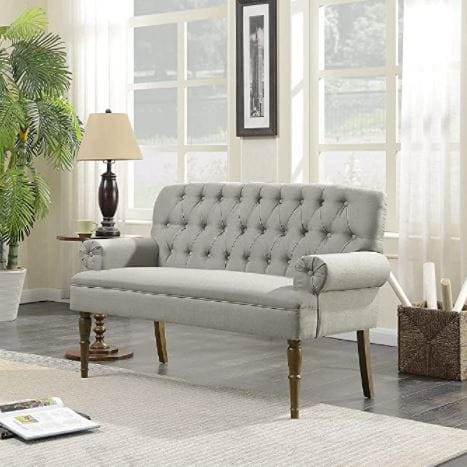 Features:
Sturdy Frame
Elegant Look
Cozy Cushion
The seat cushion is filled with foam, polyester, and pocket coils, and the back cushion is stuffed with polyester and polyurethane foam. You can relax for hours in this chair.
Go bold with this one-seater designed in a glam style that's out of the ordinary. We love the velvet fabric and angled metal legs, which give it a vintage yet chic style.
Use the two pockets on this sofa (1 on each side) to keep your remote and some magazines!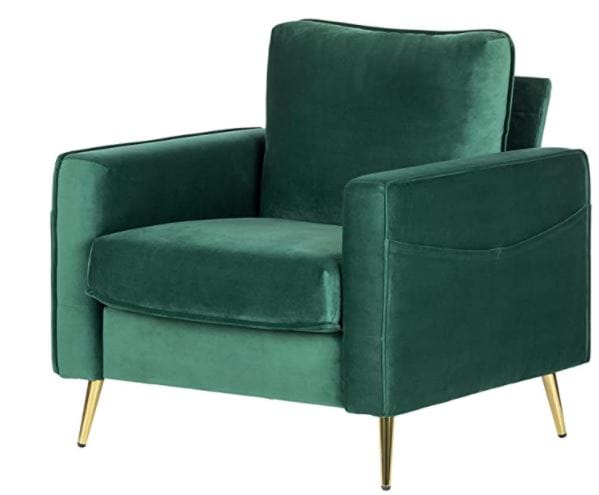 Features:
Rectangular
Metal, Iron
Dark Green