If you are into vintage accessories, then you need to get your hands on a vintage suitcase. Now you can travel in true vintage style with pieces including luxury steamer trunks to monogrammed hatboxes, which hark back to the glory days of Western travel. If you can relate, you are in luck because we'll be sharing great vintage suitcase alternatives with you.
There is something sophisticated and fashionable about a vintage suitcase. Luggage and suitcases help you keep your belongings secure when traveling, and though the vintage pieces are a matter of personal choice, when you see someone with one during travel, you can't help but wonder and admire.
With so many models available, choosing a vintage suitcase may seem like a daunting task, especially when thinking about luggage requirements. Luckily, nowadays, you are just a click away from finding great pieces that look vintage but meet current regulations. Please scroll down and see what we're talking about.
Vintage Suitcase Brief History
At the start of the 20th century, tourism was the domain of the wealthy who could afford ocean liner voyages. Luggage during this time was a severe status symbol, and no brand was more coveted than Louis Vuitton.
After train travel started to replace steamship trips, luggage became smaller and easier to transport; and the Pullman was notorious with an impressive assortment of travel stickers.
After World War II, cross-country travel exploded. The market became flooded with niche offerings, from a clear-topped pet carrier to an elegant makeup bag, just part of an elaborate Lady Baltimore set.
In the late 1960s, air travel soared, and the crowded skies ushered in the era of colorful hard-case packers. Samsonite led the charge, and companies such as Jet Flite followed suit. Other makers like Ventura introduced a luggage innovation: combination locks.
Vintage Suitcase FAQ's
Is hard-side better than soft-side luggage?
All authentic old-school luggage is hard-side. Softside has only come onto the scene in about the last 50 years. One of the advantages of soft-side luggage is that the sides are flexible. You can often fit in odd-shaped objects that you cannot fit into hard-side luggage.
Hardside luggage is a bit more durable and weatherproof. Softside luggage can become wet or stained more easily. Hardshell luggage might also offer better protection.
What should you keep in mind when choosing vintage luggage?
TSA Regulations And Locks
Anyone who has traveled recently knows that the TSA poses many restrictions on what you can and cannot take with you. Many authentic vintage suitcases or antique luggage trunks do not meet these requirements. Choose pieces that have a vintage look but meet modern regulations.
Durable Built
One of the most important factors is that they should have a strong zipper and locking mechanism that is not likely to break when it is being tossed around. Another thing to look for is wrapped corners to add stability and improve their stacking strength.
Organization
This is another area where it comes down to preference. Many people like to have lots of organizers and compartments for their things. Others like old school luggage that has wide, open spaces.
What type of vintage suitcase can you find?
Vintage Style Carry-Ons. Vintage-inspired carry-ons (18-22 inches in length) usually come in two types: zipperless suitcases without wheels or regular wheeled suitcases.
Vintage Style Checked Suitcases. Checked suitcases (23-32 inches in length) are usually better for over-packers and people who often travel more than two weeks at a time.
Vintage Style Luggage Sets. If you regularly use a checked suitcase, the chances are that you'll also be using a carry-on. Buying a 2-piece or 3-piece luggage set is usually much cheaper than buying the pieces separately.
Vintage Style Duffle Bags. There are a lot of vintage-inspired duffle bags on the market. These are great for a quick weekend getaway.
Vintage Suitcase Options
This vintage-looking suitcase is perfect for ladies or girls, features a three-stage telescopic rod, thickened aluminum alloy material, which is more durable.
It also has corner guarding with reinforced rivets and wear-resistant and smooth spinner wheels.
It comes with a shiny rose gold combination lock, beautiful and practical.
This suitcase is extremely charming and the best part, it can fit a lot of stuff.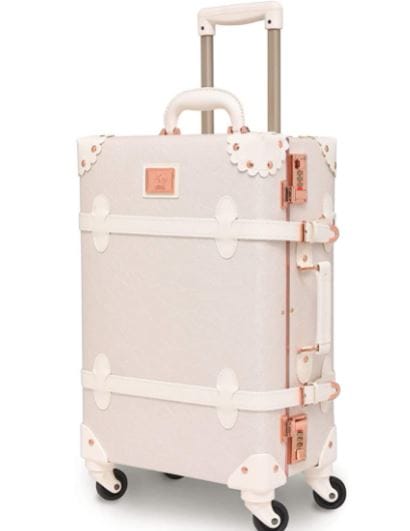 Features:
Vintage look suitcase
Lightweight and durable
Rose gold aluminum alloy frame reinforcement
Made with high quality thicken lightweight alloy, solid compressive strength, no deformation, sturdy, durable and smooth in use, adjustable draw-length design, adapt to different height, anti-corrosion, never rust, fade.
Featured high-quality aviation aluminum, lightweight aluminum material makes it anti-compression ability and smooth lifting. Multi-gear design can meet the needs of different groups of people.
Have a unique retro style, noble and elegant design, catering to the new trend of fashion. No matter traveling on the weekends or going abroad, you will be the distinctive one.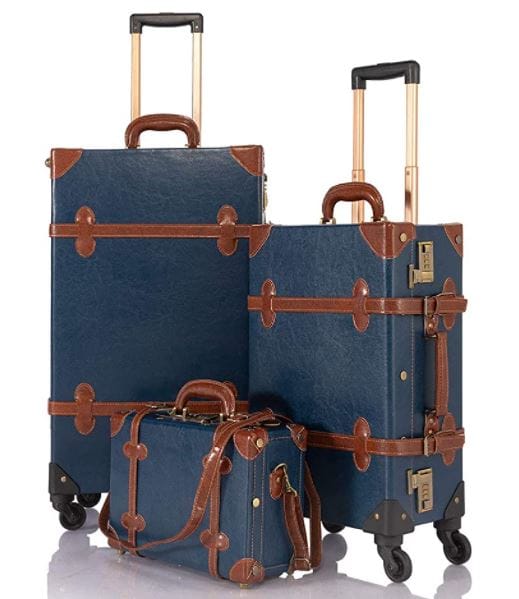 Features:
Adjustable draw-length design
Anti-corrosion
Lightweight alloy
Made of PU leather with traditional hand-craft stitching, you get the elegant style of a vintage trunk with the lightweight convenience of a modern suitcase.
Four heavy-duty spinner wheels allow 360° effortless mobility for quick navigation through dense airport crowds. Safely secure the handbag atop the suitcase with the included strap.
The suitcase is equipped with double TSA key locks (2 keys included). The international carry-on handbag is small enough to fit under your airplane seat and consists of a combination latch-lock.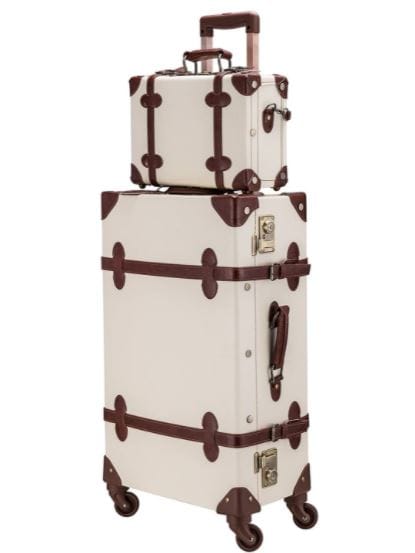 Features:
Double TSA key locks
Hand-Crafted
Spinner Wheels
The multi-utility bag can be used as a travel bag, gym duffel bag, sports duffel bag, overnight bag, weekend cabin duffel bag, carry-on duffel, etc.
Robust and lightweight goat leather, tanned without the use of chemicals Leather softens and darkens with use. This sharp-looking duffel has a beautiful natural look and feel.
This easy-to-carry travel bag is perfect for men and women.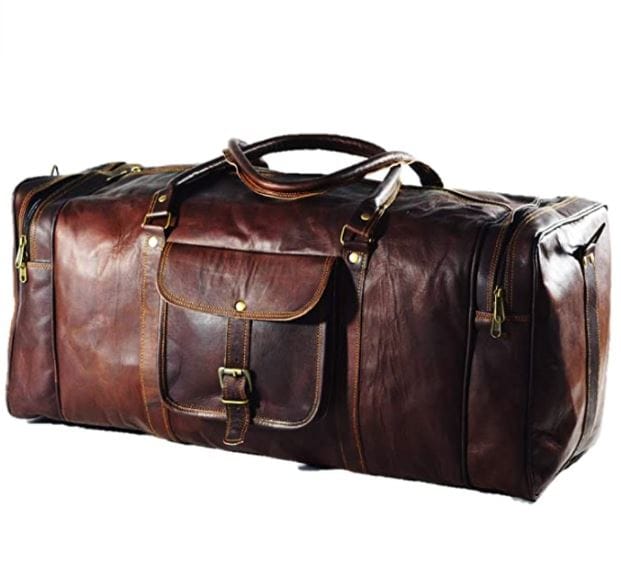 Features:
Zipper closure
Easy to carry
Brown
The suitcase wrap angles are all handmade. The rivets on the corners can enhance the texture of the luggage itself and enhance the retro beauty and metallic feeling. The perfect combination of handwork and retro.
It is made of high-quality PU leather, which is hand-stitched. They are sturdy, waterproof, and easy to clean.
There are multiple compartments and pockets inside the suitcase to store and secure your belongings. Top and side carry handles allow you to feel an elegant and portable travel experience.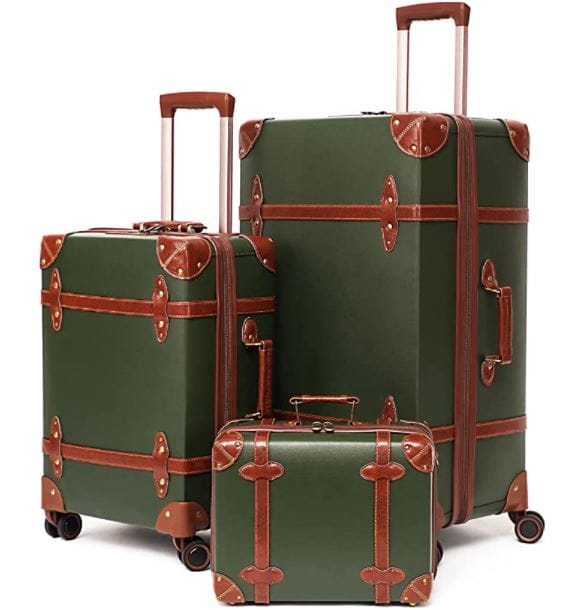 Features:
Double Spinner Wheels
TSA Lock
Three-staged Telescopic Handle
If a suitcase is too big for what you are specifically looking for today, perhaps what you need is a vintage backpack.