Whether you are a new or an old fan of vintage rings, these stylish and unique pieces are here to stay. Vintage rings are a fantastic way to express your uniqueness; it is a trend that screams, go big or go home. The reason why we'll be sharing with you everything you need to know about vintage rings.
Safe to say that trends come and go, but a nice-looking vintage ring will always look good on your finger. With rings gaining more and more attention, it is only natural to incorporate them into our wardrobes and find the one that suits your personality and personal style the best.
Vintage rings can be found in different shapes and sizes. So with so many options, how do you know what to choose. To give you some trendy ideas, check out below other options of vintage rings that we think are worth it.
Vintage Rings FAQ's
What is considered a vintage ring?
A ring that is considered to be vintage is at least twenty years or older, and an antique ring refers to anything at least one hundred years old. A lot of the time, vintage refers to the style of the ring and not always the age.
If you are looking for an authentic vintage ring, you will be looking for a call that has been passed down through generations.
What are antique rings?
In jewelry trade terms, 'antique' describes a piece made at least 100 years ago. That means that any jewelry made around 1920 or before is technically antique.
From what era do vintage rings come from?
Some of the popular eras for vintage rings are the: Georgian, Victorian, Edwardian, Art Deco, and Retro eras. Most people, when designing vintage-style rings, get their inspiration from these eras.
Are vintage rings more expensive?
Luckily this is not the case. In the case of most vintage engagement rings, these tend to be cheaper. New diamonds are about thirty percent more expensive than older diamonds. Also, vintage settings cost around one-half of a unique setting since it is pre-owned.
On the other hand, some vintage rings will not be cheaper. If the vintage ring has cultural or historical significance, it will cost more when purchasing.
Why are vintage rings cheaper?
An antique or vintage piece will generally cost less than its modern counterpart because there are no manufacturing costs involved and because the stones are cheaper.
How can you tell if a vintage ring is real?
One way you can tell if your ring is authentic is to examine the ring's gemstones. The gemstones of a ring can be a great indication of its vintage authenticity. The quality, cut, shape, and wear of the stones can all help verify their age. Because of how diamonds have been valued, older rocks may have warmer color tones than modern gems.
What should I look for in a vintage ring?
If you want a genuinely antique engagement ring, look for the words Victorian, Edwardian, and Art Deco. Avoid stones that will break easily. Emeralds are brittle and can smash, soft opals and anything with enamel will chip, and caliber cut stones on the edge of a ring can fall out over time.
What are the three types of engagement vintage rings?
Victorian Engagement Rings: 1835 – 1901
Victorian rings are rare to find because they were made so long ago, but you should be able to find them in specialist antique jewelers. They are usually very intricate and decorative, with engravings of scrolls, etc. They often have a large central stone supported by several smaller stones, like a modern 'halo setting.'
Edwardian Engagement Rings: Early 1900s
Edwardian engagement rings are very ornate, with jewelers aiming to make the ring setting look like folded lace.
Bending metal like this is known as 'filigree' and was only made possible after the oxyacetylene torch was invented and platinum heated up to extremely high temperatures.
Art Deco Engagement Rings: 1920s – 1940s
Probably the most popular type of vintage ring is those from the art deco period. Art deco is a broad term, but it describes a particular style of visual design applied to a huge range of things from1920s until just after WWII – from buildings to cars, paintings to jewelry.
What to keep in mind when choosing a vintage ring?
Durability. Vintage engagement rings may have stood the test of time so far, but durability is something that you need to consider. When it comes to the setting, delicate and flowery designs from the Victorian and Edwardian periods may need to be looked after, while art deco design usually uses more metal, so it should be a little sturdier.
Use. Even delicate rings with 'soft' stones can make great choices for rings if the wearer isn't going to wear it every day and is careful about taking it off while they do anything strenuous.
Centre stone. Today, most stones are cut by laser to maximize the amount of light they reflect on our eyes. In the past, this wasn't possible, so antique engagement rings' center stones often won't sparkle quite as brightly as modern rock.
Repairs. When looking at vintage rings, always ask if any repairs have needed to be made to the ring, and make sure that this work is up to the standard of the original manufacture.
Size. When buying a new ring, make sure you get it as close as possible to your finger size. It's always easier to go down in size than up.
Appraisal. An appraisal is an assessment of a piece of jewelry by an independent expert, who will ensure that it is what it is meant to be and will also rate its value.
Vintage Rings
Brass ring with gold and silver two-tone plated, perfect for numerous occasions: Everyday / Party / Prom / Aniversary / Wedding.
This is a designer-inspired ring for women; with a vintage retro-antique style. An elegant bangle is twisted and cable wire pattern for an exquisite option.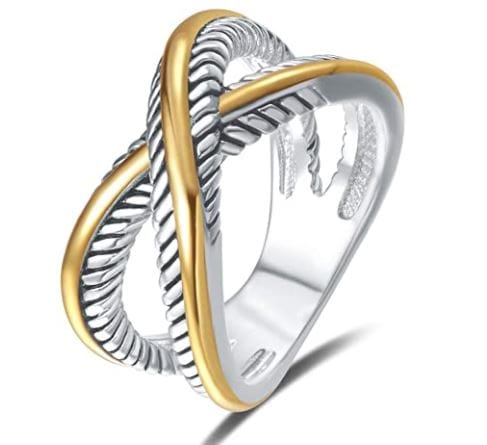 Features:
Silver and Gold 2 Tone
Designer Inspired
Vintage Retro Antique
Adorn yourself with a one-of-a-kind piece. Handcrafted in Israel, your 925 sterling silver garnet ring beautifies your finger with a drop of classic elegance.
Love the look of sheer quality. Your garnet jewelry features high-end, 925 sterling silver and a circular, natural garnet that dazzles with sparkling dots of color.
Garnet is a stone meant to bring success in life. It also protects the wearer from negativities and evil thoughts.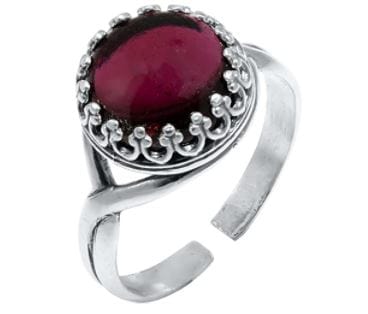 Features:
Stylish Statement
Long-Lasting Beauty
Versatile
This vintage-style ring showcases a flower scroll design that is adorned with beautiful round coffee diamonds. Set in 14K rose gold, the nature-inspired pattern of this exquisite piece of jewelry deserves all the admiration it receives.
It is a Vintage style brown Diamond Flower scroll ring in 14K Yellow Gold. All their Coffee Diamonds are sourced directly from mines and manufacturers.
The exceptional craftsmanship ensures that every Coffee Diamond jewelry piece will last for generations.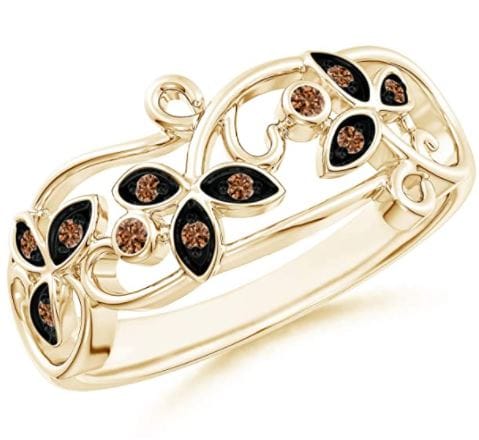 Features:
High-quality
Angara Certificate of Authenticity
Vintage Style
The ring is beautiful. Its petals are painted black to look antiqued possibly. The fit is perfect. Rose covers almost your finger.
Made of solid 316L Stainless Steel, it is also nickel-free and hypoallergenic. It offers never to rust or leave your finger green.
It is safe to wear while bathing, swimming, cooking, and dish-washing.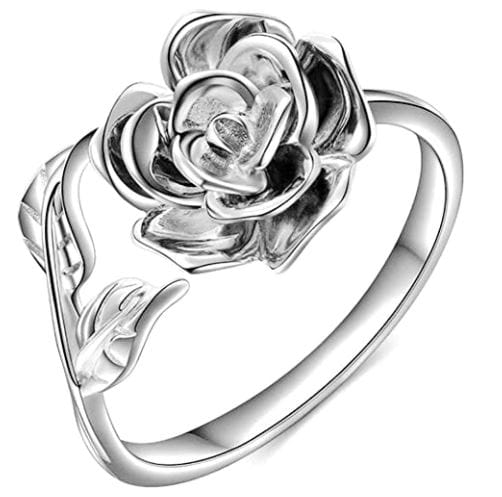 Features:
Stainless Steel
Nickel Free
Hypoallergenic
This 2.75 Carat 14K white gold Vintage Halo Style channel set round brilliant diamond engagement ring milgrain with a 2-carat moissanite center.
It features side diamonds, which are G-H Color SI1-SI2 Clarity. Suitable as an engagement ring.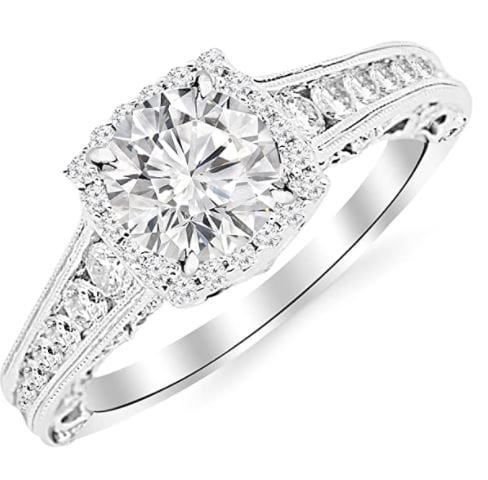 Features:
Side Diamonds on Engagement Rings
100% Natural, conflict-free diamonds
Certificate of Authenticity