If you are a fan of everything antique and love the vintage touch in your decor, then a vintage lamp is a must. Lamps are extremely versatile fixtures with many uses in the home or office.
Vintage pieces have the amazing power to add beauty and charm to your rooms like never before. This is the reason why today, we'll be sharing with you some of the best vintage lamps options around.
Vintage lamps are quite easy on the eye and are a great way to add character to a specific space in your home. Though vintage lamps have been in style for decades, they never seem to go out of fashion. Even better, you can have the best of both worlds, something sleek and modern or more rustic-looking.
As you may imagine vintage lamps can be found in different shapes and sizes. So with so many options how do you know what to choose. Scroll down to find some of the most popular options currently available and see the magical spark these pieces create, in no time.
Vintage Lamps FAQ's
Are old lamps worth anything?
Lamps are often more valuable when left in an original condition with most or all the original parts. Some lamps may appear to be made of metal, but they might also be painted to look and feel just like metal.
What is an antique lamp?
Antique lamps span a broad spectrum, including well known-styles like Victorian and slag glass and leading names like Tiffany, Handel, and Aladdin.
What is an old lamp called?
A kerosene lamp (also known as a paraffin lamp in some countries) is a type of lighting device that uses kerosene as fuel. Kerosene lamps have a wick or mantle as a light source, protected by a glass chimney or globe; lamps may be used on a table, or hand-held lanterns may be used for portable lighting.
How do you know if a lamp is vintage?
Antique Lamp Supply recommends picking up the lamp and looking for a manufacturer's symbol, name or date stamp embedded into the base. Also, look at the lighting fixture itself; sometimes, the manufacturer includes a sticker that includes the name, or date of manufacture.
What are the most popular types of vintage lamps?
Vintage Table Lamps
Table lamps are typically used in rooms that need more light, in addition to the main source. An authentic, vintage table lamp can provide the task-oriented illumination you need to work or read.
However, you do not want the surface to be completely covered; be sure there is enough space on the table to accommodate your new lamp.
Floor Lamps
Floor lamps are typically between four and six feet tall, so in a room with average height ceilings, they can provide general illumination. Often found in home offices, libraries, and bedrooms, these lamps work well in uncrowded areas with plenty of floor space.
Torchiere Lamps. While a normal floor lamp balances light both upwards and downwards, a torchiere lamp directs light up only. These glare-resistant lamps deliver a soft ambiance, which should be complemented by a source of general illumination in rooms that need to be well-lit.
Bridge floor lamps. There are also bridge floor lamps, which have an ornamental base and adjustable hinged arm. Light is directed downwards, which works well in reading and entertainment rooms.
Vintage Lamps
The small lamp is a perfect size and will look dazzling in any room of the family house, the navy shade wide 8 inches, total lamp height 21inch, the mini poly base-wide 6 Inch finish with bronze color with 1.0KG weight.
Real Tiffany Lamp, Precious handmade crafts as century classic. The lampshade material is real stained glass jointed by tin,
The heavy base provides good stability from falling that can make sure safety and stability. These lamps are inspired by the art nouveau design, making each one a unique and stunning centerpiece to place in your house.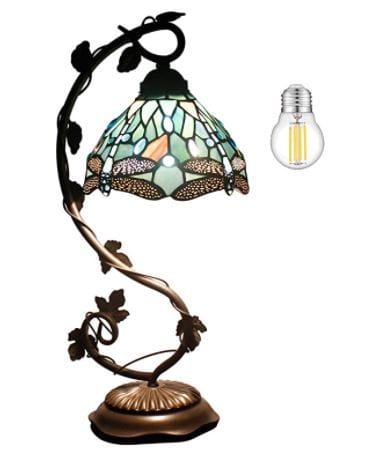 Features:
Comfortable Glow
Table Lamp
Sea Blue Color
Designed with a sophisticated tripod base and ferrous projection lamps, this antique marine ship searchlight nautical floor Lamp is unique.
It cannot be more suitable if you use it for your retro-modern style decoration, adding more aesthetic to your home or office, creating a trendy and classic art atmosphere.
This industrial floor lamp is made of metal & natural solid wood. The whole exquisite vintage lamp is handmade. It is unique enough to decorate your personality space.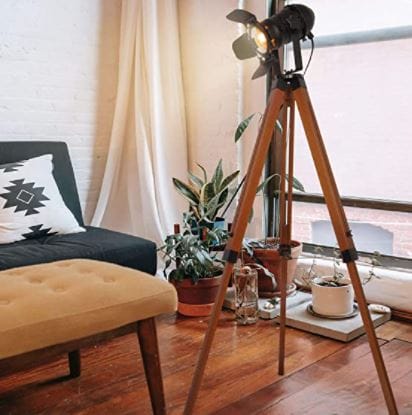 Features:
Metal, Wood
Industrial Retro Look
Adjustable Function
Made of wrought iron and is handmade to avoid disassembling it or accidentally damaging its appearance. Vintage look, perfect decorative light for retro studios.
Small appearance and footprint, this is a very practical table lamp. Simple, exquisite, and handmade iron table lamp, steampunk rustic old-school style.
The perfect decorative light for old-fashioned looks, loft apartments, coffee houses, retro studio bedrooms, living rooms, desks, and bedside tables. In the workshop, basically in any other creative space.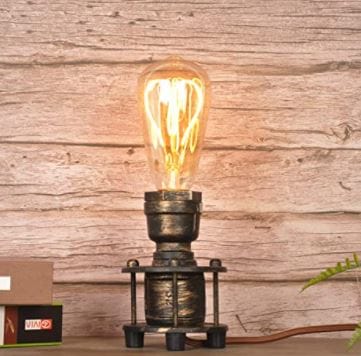 Features:
Corded Electric
Industrial Style
Gold Table Lamp
This Tiffany Style lamp is handcrafted using the same techniques that were developed by Louis Comfort Tiffany in the early 1900s.
This beautiful light fixture includes 96 glass pieces and 84 beads. A perfect balance between traditional elegance and modern luxury, this piece will bring a touch of class to any room in your home or office.
This stained glass product has been protected with mineral oil as part of the finishing process.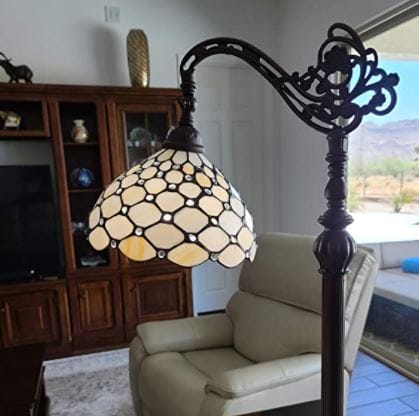 Features:
Footswitch
Adjustable shade
Handcrafted
This vintage-style table lamp in an antique brass finish with a pleated cream shade will make a wonderful addition to any contemporary home.
Thanks to its elegant design and neutral color, it fits in with almost any interior design scheme making it perfect for bedside tables, lounges, and other living areas.
Simply touch the base to cycle through the 4 stages of the dimmer: low, medium, high, and off. This lamp is a great way to add style and some extra light to a room.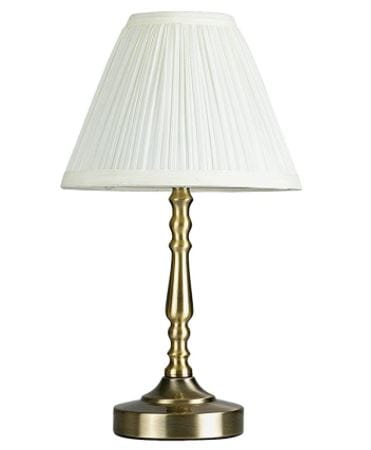 Features:
Antique Design
Antique Brass Design
Pleated Cream Shade
Touch Technology