The vintage theme in just about everything from decor to fashion has been around for a while, and it shows no sign of stopping. If you love everything vintage, it sounds like a vintage backpack may be in your near future. This is the reason why today, we'll be talking to you about some of the best vintage backpack options currently on the market.
The vintage backpacks add extra charm to your astonishing fashion statement. If you can find a classic backpack that is spacious enough to keep all your stuff and provides an elegant look to go with it, you will always want to get your hands on it.
As you may imagine, vintage backpacks come in different shapes and sizes. So with so many options, how do you know what to choose. Do not panic, and scroll down to discover some of the most popular options currently available and bring that vintage vibe to your lifestyle.
Vintage Backpack FAQ's
Why should I buy a vintage backpack?
The vintage backpacks have both elegance and efficiency in it. It adds an extra touch of glamour to your fashion. The all-leather look adds a little bit of charm to your personality and makes you a bit sturdier. Many people across the globe are opting for a vintage backpack over the standard models for this reason.
What's the difference between a backpack and a rucksack?
The difference between these two comes down to personal taste, lifestyle. While a rucksack can carry days worth of 'possibles' during a trip, the backpack represents more commuter use; think of school needs or business meetings.
A rucksack is simply a type of backpack. In German, "rücken" means back, and "sack" is the word for the bag.
But a rucksack is usually considered a more rugged version of the backpack. They are made from strong, durable, and weather-resistant materials. These packs were used extensively in the military and became the go-to bag for hikers.
What were old backpacks made of?
Leather, canvas, wood, and sometimes light steel implements were the materials of the day. Various designers made intriguing and long-lasting contributions to backpacks over the years between the invention of the Trapper Pack and the dawn of academic backpacks.
What can I use a vintage backpack for?
Keep in mind that the vintage backpacks are not meant for rough use. It will suit you if you are a school or college-going individual or a working professional. Also, except in rare cases, the models are not waterproof often. So, if your commute has a chance of a drizzle often, do not opt for vintage backpacks unless you buy a good rain cover first.
Can I carry a laptop in a vintage backpack?
There are vintage backpacks available in the market which can fit up to 17.5 inches of laptops. The larger the compartment, the better it will be for you, and you can keep everything organized too. Also, it would help if you went for the ones which have a mesh back panel or a breathable one.
Are vintage backpacks comfortable?
If it has larger shoulder straps, that can divide load equally and provide you with comfortable usage.
What to keep in mind when choosing a vintage backpack?
The vintage backpacks look stylish in your professional space. Still, before getting this, you need to check the materials, space, and design.
It is essential always to check if there are any scratches on your vintage backpack that may not be visible in the eye at first glance. You should also consider the number and size of pockets.
Vintage Backpack Options
This lightweight, stylish, professional backpack is an ideal gift for school, travel, hiking, everyday use, and outdoor activities.
Made of durable 600D Nylon Fabric, scratch-resistant, anti-tear, and anti-water splashing; padded and adjustable shoulder straps. The pocket for the 13/14/15/16″ laptop is padded, and the front flap and back.
It also features one large zipper pocket with a laptop compartment, one front bottom zipper pocket; one middle zipper pocket; two side pockets, perfect for carrying your vintage glasses frames!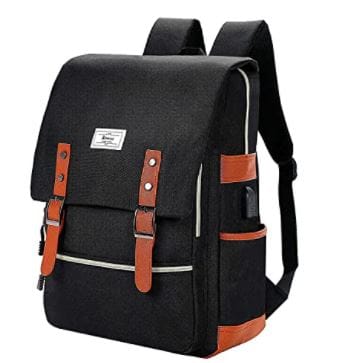 Features:
Lightweight
Comfortable
Sturdy
Gearonic TM field bag is made with premium quality high-density durable canvas fabric and PU leather; this sturdy bag features a classic yet stylish button closure flap over design, vintage brass hardware accents, adjustable and comfortable shoulder strap, and multiple pockets to keep you organized.
This large duffel bag backpack has an approximate length of twelve inches, a width of three inches, and twenty inches. Big enough to fit everyday essentials such as laptop, notebook, book, iPad, lunch, camera, shaving equipment, garments, or other accessories that you need.
It is an excellent Rucksack for hiking, camping, traveling, school, outdoor activities, or taking to work, office, school, or other indoor activities.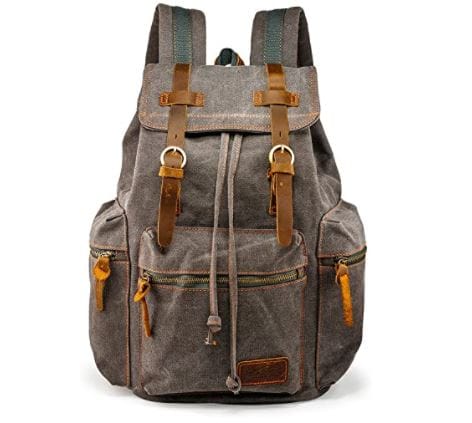 Features:
Multipurpose
Convenient Compartments
High-Quality Materials
The Rucksack No. 21 is a classic Fjallraven backpack perfect for everyday use in town and time spent in the woods.
Stash your laptop (up to 15″) in the padded sleeve, your everyday essentials in the main compartment with drawstring closure and bottle pocket, and your keys and small items in the front and side pockets.
The removable seat pad protects your back from your Pack's contents while traveling and can be taken out for impromptu seating.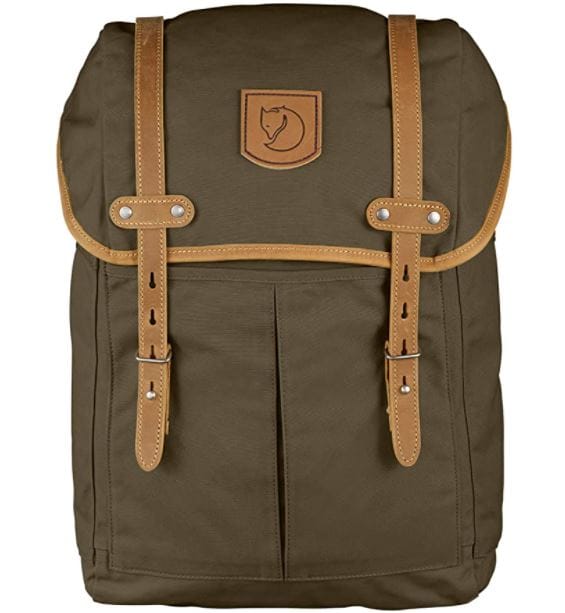 Features:
Classic
Durable
Functional
Retro Checoslovakian army daypack is rugged and simply comfortable construction and provides you a vintage, retro look and gives an archaic sense.
It's a great vintage pack from the CZ army designed to carry a typical loadout for soldiers; it has plenty of room for daily carry items.
This classic backpack comes with two massive external pockets measuring 7″ wide by 8″ tall and 2″ deep. Those pockets and the main compartment are all secure tightly with a strap closure; the Pack itself measures 16″ x 16″ and 4″ deep.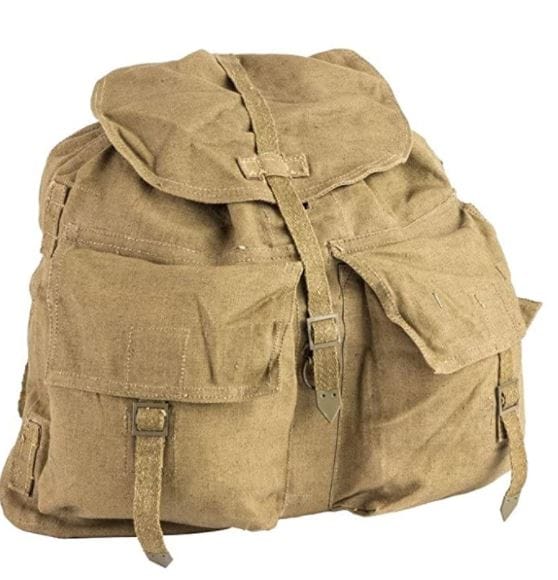 Features:
Two external pockets
Comfortable construction
Retro look
Top-quality canvas with well-selected natural crazy-horse leather, ultra tear-resistant, scratch-resistant, durable and waterproof (splash and tiny raindrops), and unique.
This canvas vintage backpack is durable enough for heavy daily use. It is roomy enough for your iPads, smartphone, power banks, wallet, umbrella, water bottles, etc.
Perfect for men and women to go to business, travel, shopping, dating, tourism, gym, cycling, hiking, walking, camping, etc.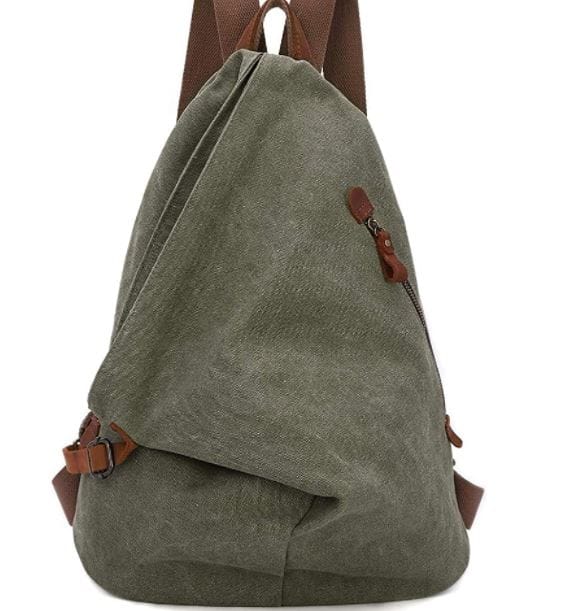 Features:
Roomy
Durable
Multi-pocket
Durable Metal SHACKLE with hidden design to protect your valuable items from thieves. Well made for international airplane travel and day trips.
Durable laptop backpack antitheft bag ensures secure & long-lasting usage every day and weekend.
With a USB charging port and headphone jack extended on the side of the backpack and a built-in charging cable and headphone cable inside, it provides convenience to charge your phone and listen to music while travel walking work.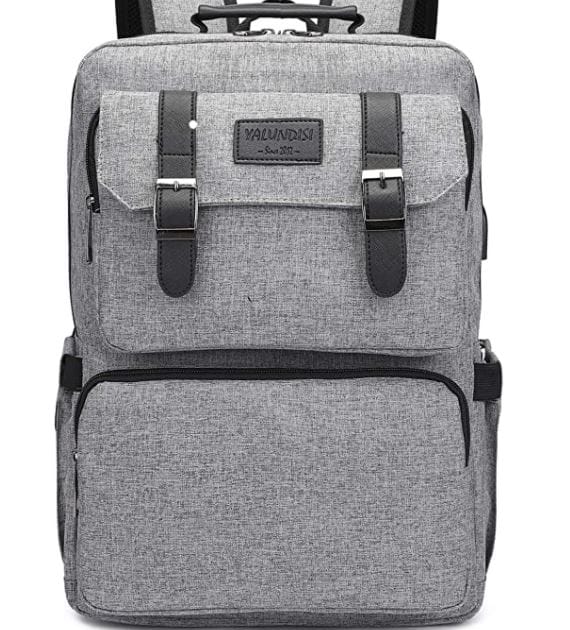 Features:
USB charging port
Water Resistant Polyester Fabric
Multi-compartment
Zipper closure
The leather has been treated to look and feel aged while retaining its toughness. The more you use it, the better it seems.
Features a back belt that slips over luggage handles. Stack this large capacity backpack on your wheeled luggage to free your shoulder or hands while carrying heavier stuff.
Innovative mesh back panels and adjustable straps for comfortable wearing won't stain your clothes. 2 main compartments. The front main compartment has multifunction pockets to keep everything neat and organized.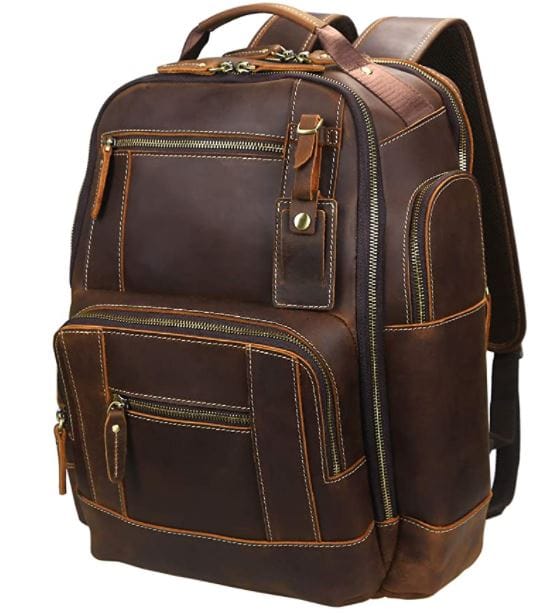 Features:
Leather
Mesh back panels
Multi-compartment
Looking for something bigger? Perhaps what you need is a suitcase, but what  we bring you is a grand selection of vintage suitcases.