If you have a love for everything vintage and that antique style of things, then you will probably enjoy having vintage paper for all your collages, scrapbooking, decorating needs. This is the reason why today, we'll be talking to you about some of the best vintage paper options currently on the market.
The vintage trend has been around in recent times and is not going anywhere, and there's a good reason why. The vintage touch adds character and can beautify your decor.
As you may imagine, vintage paper is found in different shapes and sizes. So with so many options, how do you know what to choose. Do not panic; the beauty in choosing vintage paper is that you can create something unique. So scroll down and discover some of the most popular options currently available and bring a vintage vibe into your favorite crafts.
Vintage Paper FAQ's
What is vintage paper called?
In a nutshell, to collectors, "ephemera" are vintage printed or written items that originally served some specific purpose and were not expected to be retained or preserved but which are now cherished. A few decades ago, much of it was called "Paper Americana," though ephemera is not necessarily American.
What paper did they use in the 19th century?
The basic kinds of paper made during the 1800s were rag, straw, manila, and wood pulp.
How is Lokta paper made?
Lokta paper is made from the bark of the bush named Daphne Papyrus, which only grows at an altitude of 6500ft or above in the Himalayas. The Lokta bark has to be boiled for eight hours to soften and break down the fibers, and it is then hand sifted before being pulped to a smooth paste.
How do you make vintage paper?
Method 1: Ripping Edges
Select a stationery paper
Prepared your papers for aging by cutting A4 papers in half; the half of an A4-sized paper is perfect for scrapbooking, journaling, and crafting.
Rip the paper by holding the paper firmly with one hand, near the edge, where you'd like to rip off the paper border.
Use the other hand to gently rip off the edge along the traced 1 cm border. Continue to rip the edge until all four sides have been covered evenly.
Method 2: Burnt Edges
Prepared your papers for aging by cutting A4 papers in half
Hold the paper along the opposite side to side you're going to burn
Using a lighter, light up the flame and start to burn the paper edges slowly. A candle works just fine.
Continue to do this until all four sides of the paper are burnt
Method 3: Crumbled Paper
To make a paper look slightly old, crumble the paper without forming it into a crumbles ball.
Crumble each part of the paper lightly using both hands. Crumbled the top side of the form first, the bottom, and then the middle part to avoid creating a crumbles paper ball.
After a minute, unfold the crumbles and flatten the paper using the palm of your hands. This will give the paper a very aged look.
Method 4: Tea/Coffee Stain
Boil the coffee or tea liquor for a few minutes and then allow it to cool down a little
Soak them into the coffee or tea liquor. Keep the paper soaked for 10 to 20 minutes; the longer it soaks, the better paper absorbs the stain
Carefully take out the paper from the liquor and make sure that the paper doesn't tear apart
Place the paper on a non-stick flat surface and allow it to dry completely
Vintage Paper
50 Sheets of high-quality and eco-friendly, 80GSM recycled paper with no gloss finish. The design is printed on both sides, so it looks more authentic.
Slightly thicker than normal printer paper as it is recycled and feels better quality but can still be used in almost every printer.
Professionally printed design in vintage / ancient/pirate look. Great for crafting, motif paper, letters, invites, or pirate scrolls. Great for crafting, motif paper, letters, invites, or pirate scrolls!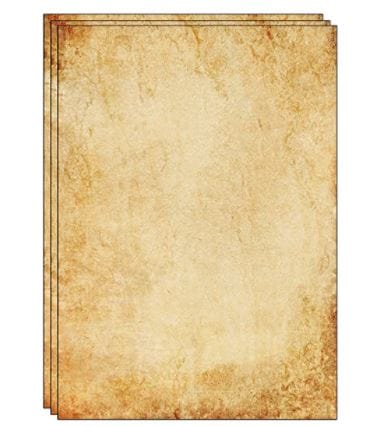 Features:
50 Sheets
High quality
Eco Friendly
153 sheets of scrapbook paper in assorted vintage styles, including vintage newspaper articles, old book pages, music sheets, old times letters, butterflies, floral and botanical printings, and music sheets.
Besides, the package also contains special PVC stickers, transparent acetate sheets, girdle paper, and flower paper to add more pretty decorations to your art.
The journaling scrapbook ephemera kit is perfect for collages, scrapbooking, decorating planners, diary and bullet journals, paper crafting, gift wrapping, boxes & packages, home decoration, aged-looking letters, ancient maps, medieval wedding invitations,s and much more.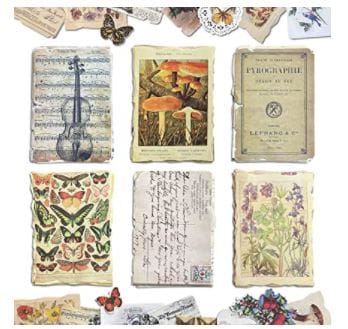 Features:
Varieties
6 designs of retro collections
153 sheets of scrapbook paper
120 Classic vintage antique design stationery papers come in six different unique looks.
Vintage paper is made of 100 GSM for durability. Double-sided Papers, handwriting, and printer-friendly.
Perfect for home decoration, ancient maps, unique-looking invitations, aged certificates, poetry scrolls, old-looking documents, old-style menus, aged-looking letters, and much more.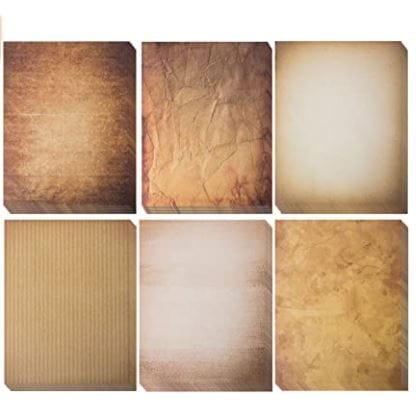 Features:
Durability
Printer-friendly
Sketch paper is perfect for all your drawing and craft needs. Add a vintage touch to your creation with thick, textured, and durable paper.
Thick bleed-proof paper can be used for dry and wet mediums, unlike another sketchbook they are suitable for watercolor, oil pastel, pencil color, charcoal, pen, and ink drawings.
Acid-free sheets in these watercolor mix media sketchbooks help keep your artwork vibrant and long-lasting.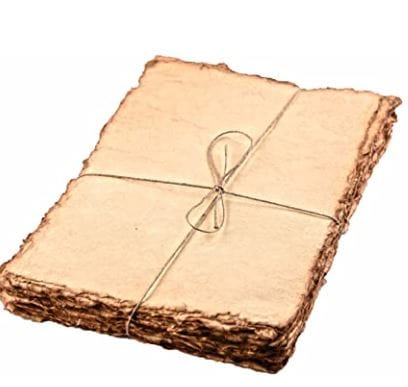 Features:
Acid-free sheets
Handmade
Loose vintage deckle
This pack of 48 parchment paper with 48 envelopes has a vintage design in cream color. Each antique paper stationery sheet is compatible with both inkjet and laser printers: simply create your design and print.
The set of stationery paper and envelopes is ideal for birthdays, weddings, parties, holidays, corporate events, banquets, and showers.
This letter writing stationery paper and envelopes set is perfect for maps, certificates, invitations, poetry scrolls, medieval-looking documents, menu, arts and crafts, and letters to Santa.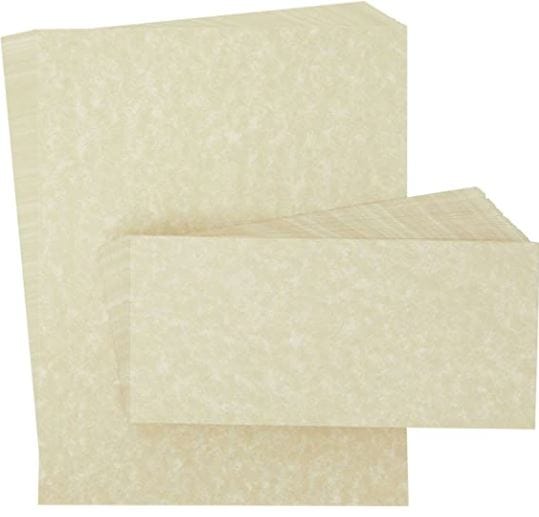 Features:
Cream color
Versatile
Printer compatible
60 Classic vintage antique design stationery papers with 60 antique-looking envelopes, comes in six different unique looks.
Vintage paper made of 100 GSM for durability, double-sided. Vintage-looking Envelope made of thick 120 GSM paper. Vintage-looking paper/envelopes are handwriting-friendly and printer-friendly.
60 Sheets of Vintage style papers with perfectly matching 60 Vintage envelopes, great value and long-lasting. Perfect for home decoration, ancient maps, unique-looking invitations, aged certificates, poetry scrolls, and much more.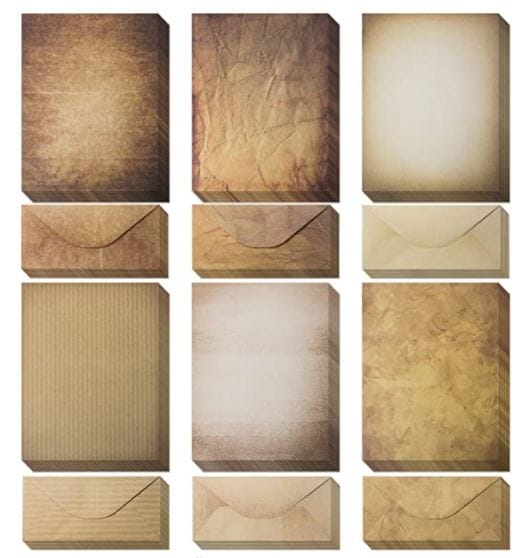 Features:
Handwriting friendly
Printer-friendly
60 Sheets
Nomad Crafts Co. Vintage Journal is made of unique vintage paper which looks like it was pulled from history. The leather wraparound with a cute key that slips in will make sure that the papers inside the journal are safe and secure.
The Nomad Leather Journal is made from naturally tanned full-grain leather which feels and smells Amazing. It's soft and very comfortable in the hands.
The ancient-looking rustic cotton paper combined with the beauty of distressed leather, hand-stitched by Artisans, creates a keepsake you will cherish forever.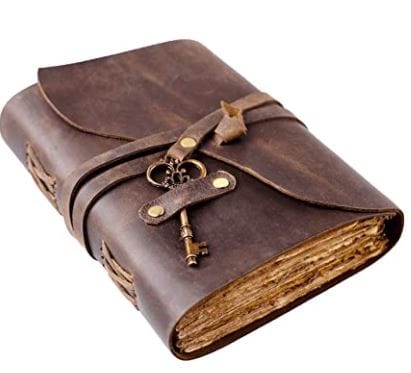 Features:
Journal
Leather wraparound
Ancient looking
Vintage Paper Additional Tips
Use regular stationery papers. If the paper is too thin, it might tear apart while soaking in the coffee-stain or tea-stain.
If you're not confident about ripping or burning the edges evenly, use a pencil and ruler to trace 1cm borders on all 4 sides of the paper.
While burning the paper with a lighter, make sure to set the flame level to low. If the fire doesn't stop and starts to burn the edge too much, make sure to turn off the lighter immediately and blow off the fire before it reaches too deep into the paper surface.
Make sure to prepare a strong coffee and tea liquor for a better result.