If you get a kick out of everything vintage and enjoy collecting antiques and items of other eras, seems like vintage perfume bottles may be in your near future. Vintage pieces such as perfume bottles possess a distinctive charm and have the amazing power to add beauty and charm to your rooms. This is the reason why today, we'll be talking to you about some of the best vintage perfume bottles currently on the market.
Vintage perfume bottles constitute a great way to add character to a specific space in your home. Though the vintage style has been on fire for some time, these significant items never seem to go out of fashion. Even better, you can have the best of both worlds, bringing something sleek and modern or more old-looking into your home.
As you may imagine vintage perfume bottles can be found in different shapes and sizes. So with so many options how do you know what to choose. Scroll down to find some of the most popular options currently available and bring a different vibe into your favorite spaces.
Vintage Perfume Bottles FAQ's
Are old perfume bottles valuable?
Today perfume bottles serve as artifacts of luxury, a reminder that in bygone eras the powder room was a place of bespoke beauty where form met function in refined style. Antique perfume bottles are also highly coveted collectibles.
Antique means that the object is over 100 years old, and vintage means it can be 100–20 years old. The older the bottle, the more rare and expensive it is.
What are the vintage perfume bottles called?
Scent bottles, vials, alabastron, decanters; there're many names the perfume bottle was and still is known by today. Antique and vintage perfume bottles come from all over the world, and all throughout history. So the names vary from their era and origin.
How can you tell if a perfume bottle is vintage?
Old glass bottles might have etched matching numbers on the base of the perfume bottle and on the bottom of the stopper. This was done at the factory when the stopper would have been ground to fit the bottle, the numbers are to show which bottle goes with the right stopper.
Does anyone buy old perfume bottles?
If your empty perfume bottles are rare, old, or from an iconic brand, you can sell them to discerning collectors. Some major retailers offer to return your bottles in exchange for a discount on the purchase of a new perfume.
What to keep in mind when buying vintage perfume bottles?
If they are offering a high-end antique bottle for a sizable price, make sure you look up that same piece and see what the price guide is.
They are successfully found all over the internet. Browsing antique stores can offer up a unique selection and experience of hunting for that perfect piece.
Check for any cracks, discoloration, or chips from the body of the bottle. You want to get your money's worth and ensure that the price isn't too high for a damaged piece.
What are examples of coveted vintage perfume bottles?
The Czech Bohemian Rococo Perfume Bottle. There are the huge Czech bohemian gold jewels Rococo perfume bottle, which is an absolutely gorgeous and stunning 1800s brass and cut faceted crystal sapphire jewels prong set into the filigree metal of the perfume bottle.
The Silver-Top Crystal Perfume Bottle. Made of beautiful Victorian metal and crystal glass. The bottle itself is a silver metal covered with an ornate raised design of flowers, shells, and decorative foliate elements.
What types of vintage perfume bottles can you find?
Bottles with spray atomizers. Bottles with spray atomizers are your safest bet that you will get the freshest scent. These bottles are industrially sealed which guarantees the best protection from the air and evaporation.
Rollerball bottles. These are recommended only if the bottles are unopened; due to health reasons and fragrance freshness. Each time this type of perfume is used, there is a chance of introducing dirt and other stuff into the perfume.
Miniatures. These bottles were often sold as a gift to the "real thing" instead of tester vials.
Vintage Perfume Bottles
This bottle is made using materials including glass and metal. It is elegant and strong, its glass bottle is also suitable for traveling.
Exquisite refillable perfume bottle makes your fragrance lasting. Perfect gift for lovers, parents, friends.
Keep it balanced when filling your favorite fragrance into the refillable bottles or during use.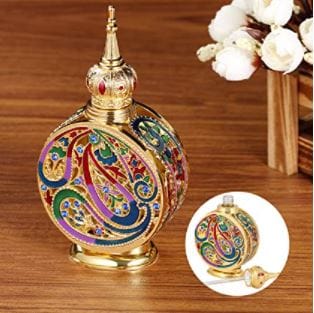 Features:
This is a thick and heavy crystal bottle, it does not contain plastic and acrylic. This thick and heavy K9 crystal bottle, will not break easily.
Now you can add elegant décor for your bathroom and vanity table. This exquisite refillable perfume bottle makes your fragrance lasting. It is the perfect gift for lovers, parents, friends.
You can place this beautiful perfume bottle on a table where it catches the sunlight and will look just gorgeous! It is petite but weighty.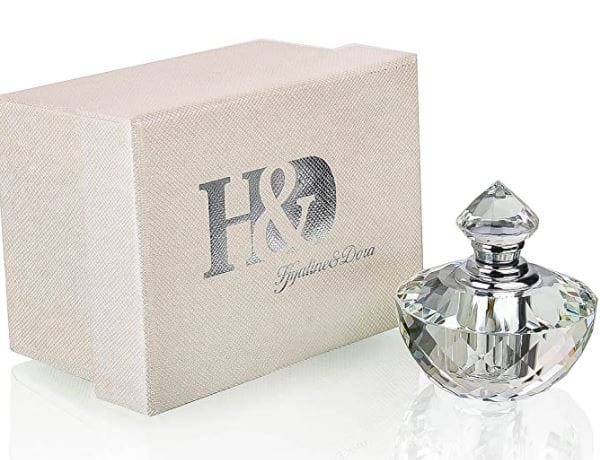 Features:
Crystal bottle
Elegant
Refillable perfume bottle
This fancy retro decorative perfume bottle brings a beautiful butterfly cover/lid/cap. It is a perfect application in perfume, fragrance, lotion, toner, essential oil, water, etc.
Place this bottle and add a touch of elegance for your bathroom, vanity table, dressing tables, mirror tray display, bookshelf, etc.
This wonderful vintage crystal glass bottle collection choice is also BPA Free & Lead-Free & odorless, so you can safely use it for any concoction.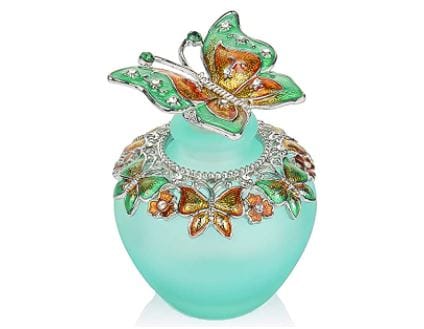 Features:
Flower pattern
Metal and glass perfume bottle
30ml Capacity
Crystal bejeweled empty glass perfume bottle with hand-painted bronze enamel and flower pattern looks vintage and expensive.
High-quality K9 grade crystal glass and metal zinc alloy made, lead-free and leak-free, absolutely safe beauty care antique perfume bottle product.
Hand-painted pewter and glass perfume bottle, Crystal trimmed peacock holds a clear perfume bottle.
Great decorative glass bottle for your bathroom, vanity table, dressing tables, mirror tray display, bookshelf, etc.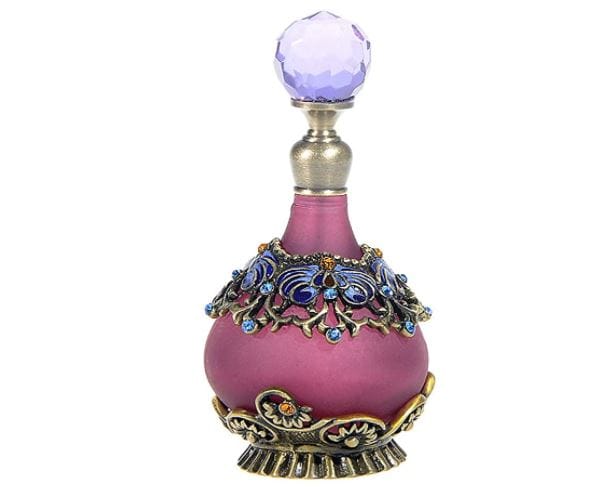 Features:
25ml Capacity
Metal
Hand Painted
The exquisite and unique shape fully reflects your elegance and taste. Made with materials including Alloy, glass bottles, and artificial colored stones.
Can be filled with perfume and essential oils. Also suitable for filling Essential oil perfume bottles, perfume, body lotion, toner, etc.
The diameter of the widest part of the bottle is about 5.3CM/2.1 inches, and the height is about 11.7CM/4.6 inches.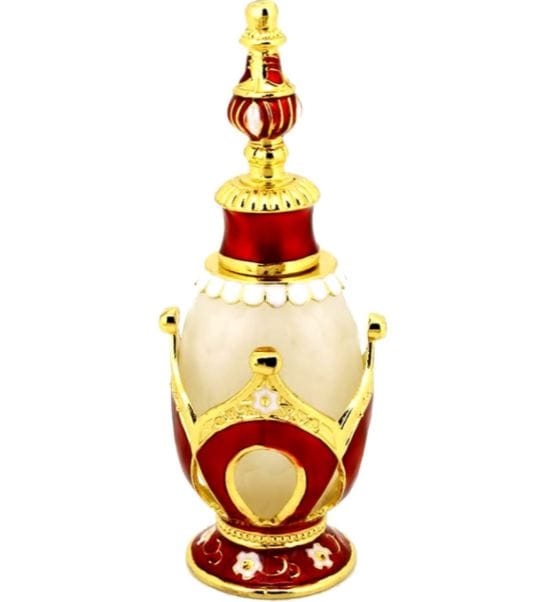 Features:
25ml Capacity
Glass Bottle
Colorful
The retro essential oil bottle is made of high-quality glass and metal. The metal parts are not only a decoration but protection, lightweight and durable, look expensive and luxurious.
The cap of the perfume bottle is tight and well sealed, so the perfume will not evaporate like other poorly made stoppers. The refillable bottle makes your fragrance lasting.
The perfume bottle organizer is empty and refillable. This vintage refillable storage bottle is available for perfume, cologne, essential oils, air fresheners, floral water, DIY beauty products, and any other mixtures of liquid. Perfect elegant addition for your bathroom, vanity table, dressing tables, mirror tray display, bookshelf, etc.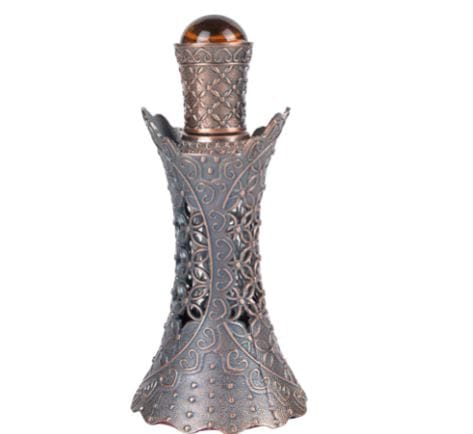 Features:
15ml Capacity
Glass and metal
Well sealed