Vintage themes have gained significant popularity in recent times. Be it weddings, parties, or a simple house décor, vintage flowers and trends are now seen everywhere. And there's good reason; vintage themes have the extraordinary power to add beauty and charm to your rooms like never before. So today, we'll be sharing with you some of the best vintage flowers options around.
Vintage flowers certainly have a special place with floral designers. But if you feel up to the challenge, you can ideally make them yourself as well, to decorate your beautiful home and why not, to make a fabulous present for that special someone.
Vintage flowers are plenty in option, so with so many options how you know what to choose. Please do not panic; we've come up with essential tips so you can create your arrangements, as well as some of the most popular vintage flower options for all your decoration and special events needs.
Vintage Flowers FAQ's
What are considered vintage flowers?
When looking for vintage flower options for that particular day, scented stock, heirloom roses, peonies, and carnations are some old-fashioned standbys. You can also bring nostalgia to a wedding day with delphiniums, cornflowers, sweet Williams, dahlias, and sunflowers.
Picture romantic hues of grape and damson imbued with tender, antique pink-blushed petals present a beautiful vintage-inspired display. Lovely addition to bringing warmth to the home.
What are traditional flowers?
Other traditional flowers for weddings include gardenias, hydrangeas, amaryllis, and calla lilies. They represent perseverance, joy, elegance, and determination. Look for flowers that symbolize good fortune to the couple, like peonies. Add lily of the Valley to the bride's crown or bouquet for humility and purity.
What are boho flowers?
Boho flowers are a play on rustic but are a little more free-spirited. The loose, organic feel of wildflowers and traditional blooms such as spray roses and scabiosa pods blend creates boho heaven. This style can be described with long, open, and free-flowing blooms — a mix of fun and unpredictability.
What is the most popular flower in the world?
That title belongs to roses, which are considered the most popular flower in the world. It is no surprise to see roses in different tones dominate every season and every special occasion.
What's the most expensive flower?
The Kadupul flower is the most expensive globally because it has never been bought and is therefore priceless. This elusive little plant is a cactus and only grows in Sri Lanka. More commonly known as the 'ghost flower,' it usually blooms only once a year, always at night, and is dead before dawn.
How to make a vintage flower arrangement?
Select the flowers. Flowers can be divided into three categories depending on the color, texture, and price. Options that would make a fantastic vintage arrangement include Chincherinchee, Viburnum, Lavender, Lilies, Carnations, Cherry blossoms, Dahlia, and Lotus.
Keep in mind seasonal differences. The arrangements will differ according to the season. The look and feel will vary greatly despite similar structures. For instance, the summer vintage floral arrangement will look brighter, colorful, and vibrant with smaller flowers. However, the spring look will be better with more green foliage.
Find a suitable location. Where you will be placing the arrangement is an essential factor as well. The color and design of the case or container will significantly depend on that. Look for the places where a vase or floral decors would be the most suitable.
Choose the vase. You can get vases of different sizes from your nearest floral shops. For larger flowers, round or oval-shaped vases will look better. If you are choosing small flowers, we would recommend selecting vases with sleek designs. A DIY container would also work.
Mixing is key. Switch and swap the flower combinations with your chosen containers before giving the final touch. An arrangement of roses, gigantic clove carnations, astilbe, snowberries, mints, and viburnum will look perfect for a bohemian look.
Put everything together. You can attach the flowers with some ribbons or strings if you want them to stick together. For stronger stems, you will require floral tapes and wires.
How to make a tall centerpiece?
Purchase wholesale roses, fillers, and greens. Prep and hydrate all the flowers before arranging.
Use a floral foam brick cut it down with a knife to fit the size of your vase or urn. This will hold your flowers in place and help you make an excellent shape.
Start by creating a shape. You can do this by placing a focal flower in the center and then creating a shape with your greens that you will fill in with all the others flowers.
Constantly turn the arrangement as you go to make sure you fill all holes and create an asymmetrical shape.
Finish up by spraying leaf shine on the arrangement.
Vintage Flowers Ideas
The whole bouquet is about 36cm/14.1inch; each has nine branches, five branches of peonies flowers, and four branches of lilies flowers.
The peony and lily flowers are made of shaped fabric, leaves also made of cloth, indoor decoration may be recommended.
The assorted bouquets are an excellent choice for home/office/kitchen/table indoor decoration, and the fall color(vintage colors)styles are also a perfect choice for outdoor decor.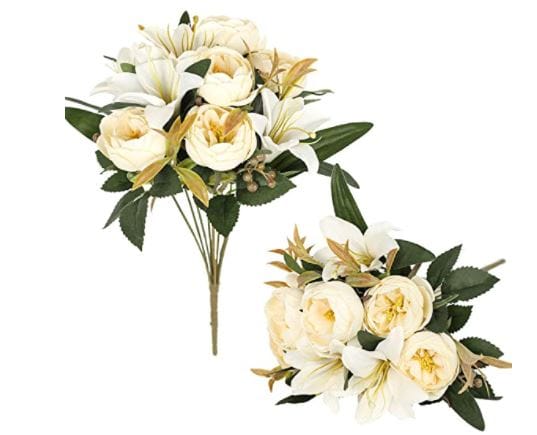 Features:
Vintage Ivory White Color
Silk, Iron, Fabric
The first choice for room decor. Suitable as table centerpieces for home, wedding decoration, flower arrangement for living room decor. Great party gift for women, such as mom, wife, sisters, etc.
The artificial flowers are made of high-quality fabric by excellent technique, making the fake flowers look very real. Come with a stem of silk peony bouquet with 13 branches with six flowers, two buds, and leaves.
The artificial flowers and leaves of the bouquet show nature color neither rigid nor dull, making them more lifelike. They won't fade for a long time.
Features:
Silk, Faux Silk, Plastic, Fabric
A-navy Blue Color
Approx 19" high and 11" wide
This vintage peony on flower vines perfectly replicates the shape of real peony. The bud is soft, big, plump, and full of luxury.
Every pack includes 2 Eucalyptus Peony Vines, and each vine has four large peony silk flowers and four silk roses. Length of flower vine: 70.8 inches, diameter of peony: 3.5 inches, diameter of rose: 2.4, size of the leaf: 1-1.2 inches.
The pink stamen becomes more vivid and natural and isn't stiff against the deep Eucalyptus leaves. The flower vine is soft, making it easy to shape differently and hang down naturally. Stems are interleaved so that you will find the dynamic and three-dimensional from any angle. The leaves have clear veins, and the rosebud is in gradient color.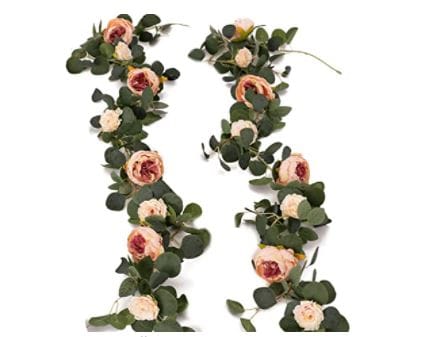 Features:
Eucalyptus, Vine, Peony, Rose
Hand-made
Vintage Pink Color
This farmhouse flower arrangement is made of silk flowers with natural color, non-toxic and no harm, safe, eco-friendly, well made, and vibrantly colored.
The silk fall flower bushes with bright autumn color in an iron pot, the plant are unfading; flowers and leaves won't fall off easily.
Our artificial fall floral requires no maintenance to sustain its colors and lifelike appearance, beautiful and colorful, realistic-looking.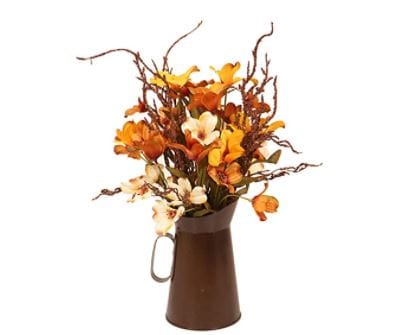 Features:
Non-toxic
Eco-friendly
Vibrant colors
Faux sunflower flowers are made of real-touch silk fabric with environmental plastic, with realistic texture which is solid and durable, and the petals will not fall easily. No matter stem, leaves, or petal is with practical botanical texture details.
These Fake silk flowers consist of 3 of 6″ flower heads, 4 of 5″ flower heads, and 12 green leaves, making them look more vivid.
The sunflowers are made of healthy and environmental materials-well made stain silk, different from ordinary silk; satin silk has high density and firm dyeing, is easy to clean and is not easily deformed or faded.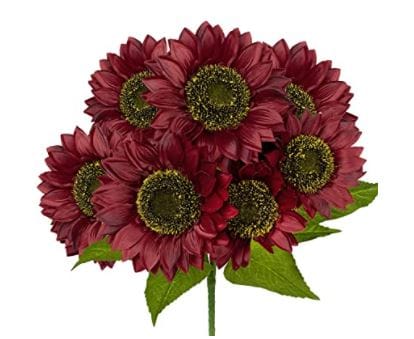 Features:
Fresh color
Poisonless
Easy clean
The bouquet consists of two hydrangeas flowers of different colors, two eucalyptus green leaves, a rose, a hydrangea, a rime, and green plants, which can be anything you want to match.
The silk flower bouquets are silk fabric, with a very textured texture, natural appearance, and authentic touch.
The stem is wrapped in plastic with metal wire, which is strong and durable and can be bent and stretched freely.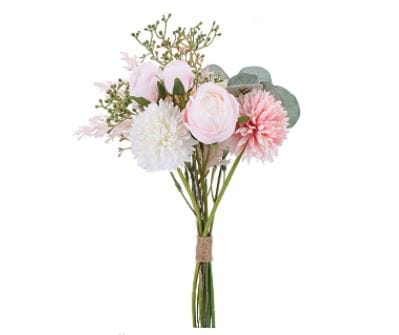 Features:
Silk, Plastic
Exquisite craftsmanship
Retro and stylish
Don't you agree to capture a beautiful and unique vintage flowers bouquet with your camera for a postcard or hang it on your walls, which is why we recently wrote about vintage photography!