If you have a love for furniture and also enjoy collecting antiques, then a beautiful vintage coffee table seems like a match made in heaven. Vintage coffee tables are a great addition to your furniture collection at your home, office and even restaurants with a retro vibe. This is the reason why today, we'll be talking to you about some of the best vintage coffee tables currently on the market.
Vintage coffee tables are a fantastic way to add character to a specific space in your home. These pieces of furniture can really beautify your places very elegantly and aesthetically for an ethereal look. Even better, you can have the best of both worlds, bringing something sleek and modern with a touch of old feel into your home.
As you may imagine vintage coffee tables can be found in different shapes and sizes. So with so many options how do you know what to choose. Do not panic, the beauty about choosing furniture lies in picking something you can really identify yourself with. So scroll down and discover some of the most popular options currently available and bring that vintage vibe into your favorite spaces.
Coffee Tables Brief History
Coffee tables have their start during the late Victorian Era with the opening of the first coffee house. The need to put down hot beverages between sips inspired the development of a coffee table. In comparison to today's coffee tables, which are 18′′-19′′ high, these tea tables were 27′′ large.
But it wasn't until 1938, Joseph Aronson wrote that a coffee table is a "low wide table used before a couch or a sofa". According to this theory, coffee tables were a late invention in the history of furniture. With the wider accessibility of television sets starting in the 1950s, coffee tables really grew out of their own since they are low enough to not block the view of the TV, even with glasses and cups on them.
Vintage Coffee Tables FAQ's
How would you describe a coffee table?
A coffee table is a long, low table that is designed to be placed in front of (or next to) a sofa or upholstered chairs to support beverages, magazines, books, decorative objects, and other small items to be used while sitting, such as beverage coasters.
What is a vintage coffee table?
A vintage coffee table is a low table with a vintage or retro design and style. It is used for holding drinks, books, newspapers, books, decorative objects, and other small items in a sitting area. Not only can you use a vintage coffee table to complete the look of your house, office, cafe, or office, but you can also use it as storage for other things as well such as foods, electronics devices, etc.
What was a coffee table called before 1920?
The idea of a coffee table came from the need to put down your hot beverage between sips. These tables, called tea tables were tall at 27″ high, compared to today's coffee tables at 18″-19″ high.
What is the difference between a tea table and a coffee table?
Unlike the usually round and tall tea table, the coffee table has seen a massive evolution in design. It has its basics, though. A low surface, 18–19 inches from the floor, is a must; less than the 27 inches of a tea table.
Why should you get a vintage coffee table?
Besides a great look, vintage coffee tables are also best known for their durable functionality. You can either put anything on them or just simply let them stay in the room as an extra decoration. Though you might think that vintage coffee tables take up lots of space in your house, they are actually also space-saving since they act as storage.
What materials are vintage coffee tables made of?
Wood. Wood is widely known as the most used material that manufacturers use to produce vintage coffee tables. This material is very sturdy, durable, and long-lasting. More than that, wood vintage coffee tables are available in many sizes, colors, and shapes.
Metal. Metal is the second most commonly used material for vintage coffee table production. Not only are they sturdy like wood, but they are also more lightweight and easier to move around than those made of wood.
Glass. This is also a popular material used for vintage coffee tables. Although some coffee tables are constructed from 100% glass, there are some other tables that are actually made by connecting through metal joints.
Acrylic/Plastic. The acrylic vintage coffee tables are easy to clean and move around the room or the house. More importantly, this type of coffee table completes today's contemporary settings.
Rattan. Rattan as known as wicker might be a rare material used for vintage coffee tables, but this material lasts for a long time and gives the room a feeling of warmth.
What shapes are vintage coffee tables?
Rectangle. This is the most popular shape preferred by the majority of furniture lovers. Rectangular vintage coffee tables make a great pair with long sofas or couches.
Square. This shape of coffee tables is more likely to look best in smaller rooms or square-like settings. Nevertheless, square vintage coffee tables might not work well if they are placed on a long couch since they are not long enough for users to reach them.
Round. This type of vintage coffee table works better with shorter couches or sofa and more compact seating arrangements. This is due to the fact that longer sofas make round coffee tables appear smaller than they actually are.
Oval. Albeit similar to round vintage coffee tables, oval coffee tables work best when you pair them with a lengthy sofa or couch.
What style of vintage coffee table is best?
Contemporary. To suit modern living, contemporary vintage coffee tables come in a variety of shapes and characteristics to complete the look of your house or room.
Modern. Even though some vintage coffee tables look modern, they are actually casual, elegant, and classic.
Coastal. By using light-toned wood and natural shapes, the coastal vintage coffee tables give off a casual vibe, beachy and airy feel to the whole living area.
Rustic. This type of vintage coffee table is typically made of wood with simple designs and patterns carved into them.
Industrial. This type of coffee table is created from metal and wood, and it is very solid and well-constructed.
Novel. They come in different shapes, sizes, forms, and designs that depict extreme creativity and innovative artistic ideas.
What should you keep in mind when choosing a vintage coffee table?
Size
Measuring the size of free space in your room and checking where you want to place your vintage coffee table is very important because the coffee table's size needs to fit perfectly in the room you want to put it in.
Material
If you plan to place a lot of heavy items on the table, or if you have little children or pets, you should definitely need a coffee table with a sturdy tabletop, which is mostly made from wood or metal.
Shape
This also depends on the appearance of your room as well as your other furniture as well. If those pieces of furniture are mostly curvy, then the vintage coffee table will blend in well with them.
Style
Coffee table styles such as modern, mid-century, retro, 1950s style, informal, formal are all the styles you should take into account when purchasing a vintage coffee table. If a modern or contemporary style is your cup of tea, then pick a glass-topped table with a sleek design. If you prefer country casual, a rustic oak table would be ideal.
Color
If you plan to choose a vintage coffee table based on your favorite color, please bear in mind the current color scheme of your room.
Scale
This means how similar the size and visual weight of objects in a room are. Therefore, when it comes to decorating your room with a vintage coffee table, you must make sure that the other furniture and the coffee table you've bought are on the correct scale with one another.
Functionality
Ask yourself, what is your purpose for using the coffee table? Will you use it as a piece of decorative furniture or as a table for storage? If it's for storage, make sure you know exactly how much storage will be enough for the coffee table to be able to hold your daily objects.
Vintage Coffee Tables Options
Crafted with an open design, plus a natural wood-grain finish with a subtly textured feel and mid-century modern appearance for simple yet fashionable charm in any living room.
With 3 open points for access make it easy to store and grab items such as movies, magazines, and board games or decorate the space with a small plant or storage tray.
Place a television on this wooden table for the perfect entertainment center, or accentuate the center of the living room for a cup of coffee in the mornings or board game nights with family and friends.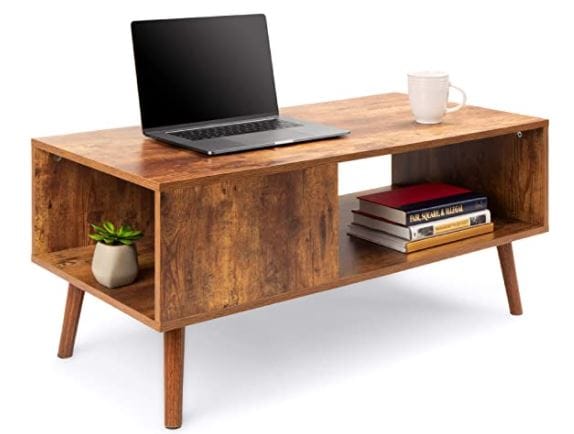 Features:
Mid-Century Modern
Engineered Wood, Wood
Sturdy Build
Distressed solid wood planked top and open shelf highlight the natural knots and grain. Rustic-style chic with simple construction to create an attractive look and feel fits well with your personal taste and interior decoration.
Decorative slatted bottom shelf provides additional storage space; wide desktop with spacious space to display your daily items, all making your home tidy and clean.
Solid wood plate and sturdy construction ensure strong stability and durability, no serious wobbly and movement.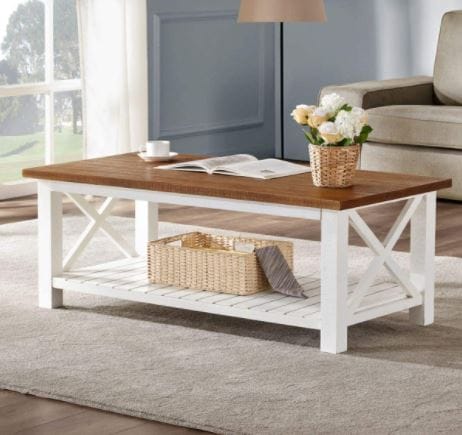 Features:
Wood
Farmhouse Style
Rectangle
The distressed wood grain PVC veneer finish has the look of being weathered and old, giving it texture and a rustic, homey appeal for our coffee table.
Also, this round table is scratch-resistant, waterproof, and easy to clean. No paint was needed, green non-toxic, and Eco-friendly.
This modern coffee table is suitable for the living room and can match any decor in your house. It also has a spacious surface for everyday use and a low-level open shelf that can hold your different types of items.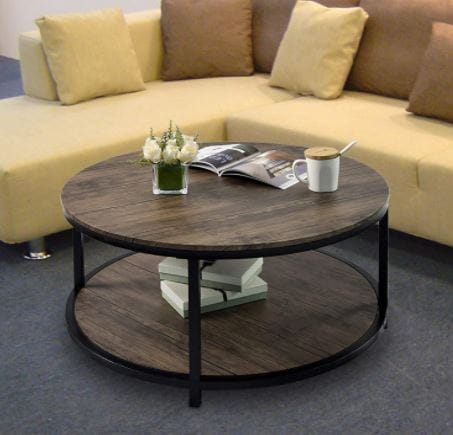 Features:
With this versatile lift-top table, you don't need to tilt forward in order to use your laptop, write or dine on the table while relaxing on the couch.
The Shaker design and lightly distressed finish can go well with a variety of modern home décor. It can be a functional coffee table in the living room, office, reception room, or limited space.
Lift up the tabletop and reveal a hidden compartment, it helps to store often-used items like laptops, chess, remote controllers, game controllers, and such like under the top when not in use, keeping them handy and dirt-free.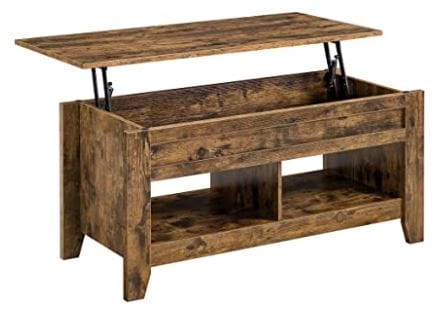 Features:
Engineered Wood, Metal
Lift-top design
Versatile
Coffee table with updated P2 particleboard (not solid wood), compared with MDF material, our tabletop not only has a vivid wood appearance but also it is waterproof and heat-resistant, even you put hot coffee or drink on it directly, it will not hurt the tabletop.
2-tier large coffee table gives you more storage space, 35.83-inch wide tabletop and second layer shelf provide spacious space for living room supplies, keep your daily essentials nearby, make your room neat and tidy.
Round coffee table with sturdy structure, supports up to 300lbs, will never shake or wobble during use.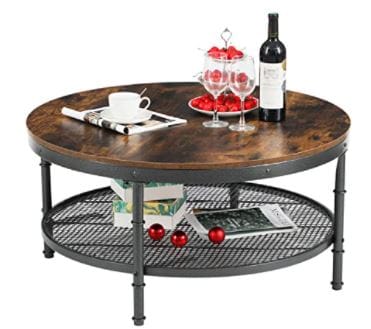 Features:
Engineered Wood
Round
2-tier