If you are a fan of everything antique and love the vintage touch in your decor, then a vintage desk is necessary. Desks are extremely versatile fixtures with many uses in the home or office.
Vintage pieces have the incredible power to add beauty and charm to your rooms like never before. This is the reason why today, we'll be sharing with you some of the best vintage desks options around.
Vintage or retro desks are pretty attractive to look at and represent a great way to add character to a strategic space in your home. Though vintage desks have been in style for decades, they never seem to go out of fashion. Even better, you can have the best of both worlds, something retro or rustic-looking but with modern accents.
As you may imagine, vintage pieces can be found in different shapes and sizes. So with so many options, how do you know what to choose. Scroll down to find some of the most popular options currently available and see the magic these pieces create in no time.
Vintage Desk FAQ's
What's the difference between vintage and Antique and retro style desks?
The fundamental difference between these old-world styles for furniture is the age. Antique will be over a century old, vintage is less than a hundred years, but more than 50, and retro styles will be less than 50 years.
What to consider when choosing a vintage desk?
The theme of the house or the office
The Vintage desks that one obtains should add an aesthetic value to the room or office. Without considering the design of the vintage desk and the outlook of the room as well, you may end up with a cluttered look. This is to say one's choice of the vintage desk should blend to a certain degree with the looks of the finished room, the flooring style, artwork, windows, doors, and so on; you add a lovely vintage typewriter to your desk!
Pricing
One feature of vintage desks in particular and other furniture, in general, is the variation in pricing. Before undertaking to make any payments, take time to ascertain that is the proper pricing. That can only be done if you review most of the prices offered at online auction sites and flea markets for antique, retro, or vintage furniture.
Modern improvements
Unlike rigid old desk designs, vintage desks can be improved with modern features for enhanced ergonomic and comfortable. Alternatively, a whole new desk can be constructed in vintage style.
Is it better to buy a vintage desk from a dealer or design one?
Authentic vintage desks can be found from flea markets, vintage or antique dealers, junk dealers, and online auctions, among others. Many reputable dealers may have techniques for restoring the value, serviceability, and looks of vintage furniture.
One can also get a reputable carpenter to make a replica of vintage desks. You may obtain the minimum and maximum dimensions depending on the location of the desk or contact the expert to get the measurements for himself.
How to care for a vintage desk?
If you buy a retro office desk vintage that does not look good, it will not do you any justice. This is why you must clean the desk. You can buy an extra cover for the table. If you have an Eastern-style desk, you should make sure you keep the table clean. The table should also not get wet and should be damp-free.
Vintage Desk Options
Tribesign creates an excellent solution for easy change between sitting and standing; this solid wood l desk design with 2 level deck features sit and stand work surfaces. While you are working, you can choose to sit or stand that depending on your desire.
The metal legs matched with rustic wood desktop constructs a characteristic industrial look. The desktop is made from carefully selected timber, crafted to retain the natural features of the wood, including original knots and grain. Every table is unique and reflects a rustic finishing style.
Features 2 tier metal storage shelf to make a working station and storage unit in one, between the two desktops built with two open shelves perfect for storing items you need to reach often like paperwork, binders, books, or supplies.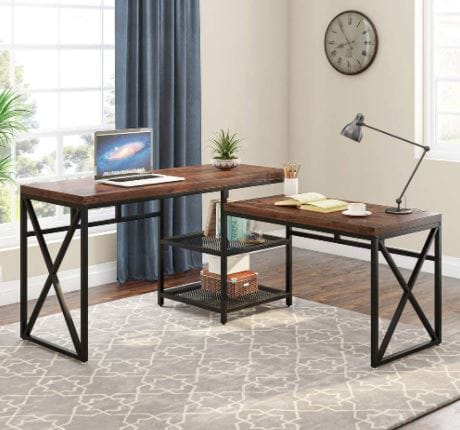 Features:
Vintage Brown
L-Shape
Metal, Wood
The electrical structure of the FEZIBO standing desk subverts the traditional form of the desk. Allows users to adjust more scientific working posture: electric lift and automatic adjustment for high efficiency and comfort.
FEZIBO Stand-Up Desk is convenient to operate. The up and down buttons can quickly adjust the height of the tabletop to a good position.
In addition, the multi-gear memory adjustment button can be humanized to return to the standard comfort height.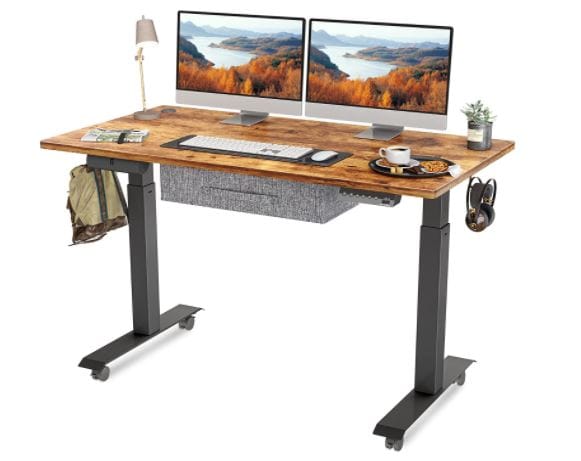 Features:
Rectangular
Tabletop
Rustic Brown
Simple structure folding writing Desk, You can install the office desk within 1 minute; no extra tools are needed. Just open the metal frame and snap the desktop on it, then the installation is complete.
It is constructed of a solid P2 MDF board with a finish that is lacquer sealed for durability. Matte metal hairpin legs exude an industrial, mid-century flair and complete this versatile table.
The iron tube "X" shape frame offers extra support and makes this desk more durable and stable. The classic design makes the bar table an excellent choice for the home, office, restaurant, bar, pub, coffee shop, kitchen, etc. Fits your existing décor nicely.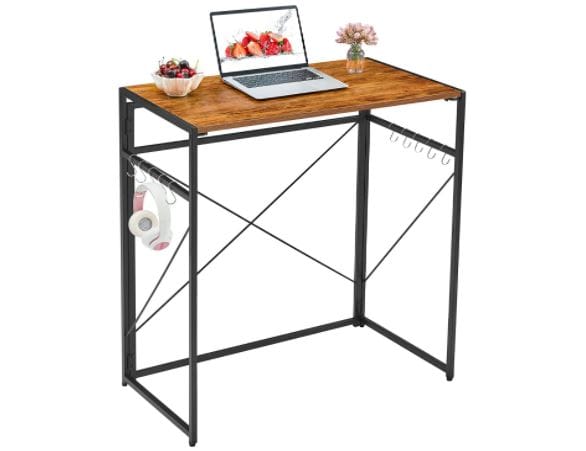 Features:
Rectangular
Vintage
Folding Desk
Whether it's writing out your grocery list or working on your next big project, this executive desk from the Trestle® collection is just what you need.
This home office desk offers a spacious top surface that provides all the room you need for your must-have desk essentials like your laptop, a cup full of pens, stacks of notepads, and your favorite coffee mug.
This computer desk features two small drawers that open and close on smooth metal runners for easy storage of supplies. It also includes two file drawers with full extension slides to hold letter-size hanging files.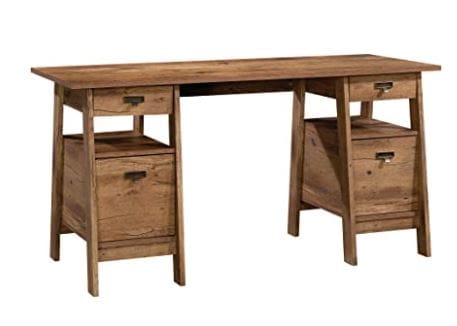 Features:
Vintage Oak Finish
Rectangular
Two file drawers
Clean, contemporary design meets rustic industrial style in this charismatic computer desk. Tastefully distressed for a reclaimed aesthetic, this writing table is crafted of MDF with wood grain. At the same time, a clean-lined steel frame in a powder-coated matte black finish offers a sophisticated contrast.
Stripping away all unnecessary elements and focusing on what needs to be there, the minimalistic PC table for the home office can be summed up: it's simple, it's tasteful, and it creates the clean and clutter-free space that's perfect for efficiency.
This writing desk is designed to ensure that anybody can put it together with ease. It only takes 15 minutes to assemble this simple workstation desk. All hardware and assembly instructions are provided.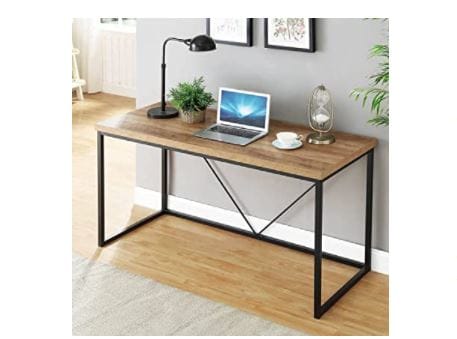 Features:
Rectangular
Sturdy
Durable